Happy over trust US showed in Canadian family rescue operation: ISPR DG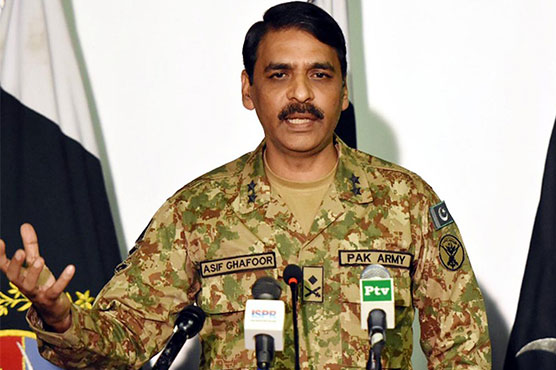 RAWALPINDI, OCT 14 (DNA) – Inter-Services Public Relations Director General Major General Asif Ghafoor has said on Saturday that United States ambassador telephoned General Headquarters and asked for assistance to secure the Canadian family.
He said that the journalists were briefed in detail about the internal and border security in his last press conference. Army chief General Qamar Javed Bajwa s Afghanistan tour was also briefed upon the last time, he said.
ISPR DG said that efforts of the military have bore fruitful results.
He said that the army was mentioned with in the past about the Canadian family which was rescued earlier this week. United States ambassador telephoned General Headquarters at around 04:00pm to inform about the family s movement.
Earlier interior minister Ahsan Iqbal had given a statement on Friday advising Major General Ghafoor to abstain from commenting on country's economy.
Iqbal is touring United States and during his stay he took notice of the mismanagement and clash between law enforcers and lawyers belonging to Pakistan Muslim League-Nawaz in accountability court during hearing of a corruption reference against Maryam Nawaz and Capt (r) Safdar.
Major General Ghafoor had commented on the economical affairs of Pakistan in an exclusive talk with Dunya News in programme 'Dunya Kamran Khan Kay Sath'.
He had maintained that the economic situation of Pakistan is not bad but not good either and a comprehensive strategy was needed to secure the future.