'Happy tears': Emotional Sania Mirza bids farewell to Grand Slam career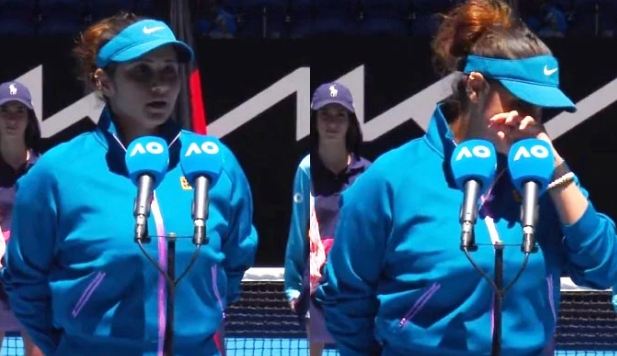 Indian tennis star Sania Mirza, who bid farewell to the sports earlier this month, was overwhelmed with emotions while giving a speech as she bowed out of her Grand Slam career.
The 36-year-old athlete, who played her first Grand Slam 18 years ago, is in Australia for her last Australian Open event of her career.
Speaking during her tear-jerking farewell speech, Sania couldn't control her emotions and said: "I just want to start with that if I cry, these are happy tears and not sad tears so that's just a disclaimer." She started off her speech by congratulating her opponents and said: "This is your moment and I really don't want to take it away, and I really really you know from the bottom of my heart you guys played amazing you deserved to win today, so congratulations and good luck."
Sania then said that she still going to play a couple of more tournaments.
The tennis star shed a light on her career, saying that the journey of her professional career started in Melbourne.
"It started in Melbourne in 2005 when I played Serena Williams in the third round here as an 18-year-old, and that was scarily enough 18 years ago," she said.
"I've had the privilege to come back here again and again and win some tournaments here and play some great finals amongst you all and this Rod Laver Arena has really been special in my life, and I couldn't think of a better arena to finish my career at in a Grand Slam. Thank you so much for making me feel at home here," she expressed.
Speaking about her partner, Sania said that Rohan was her first ever mixed doubles partner when she was 14 and won the nationals.
"It wasn't the same arena like this one, but it was a long time ago. It was 22 years ago, and I couldn't think of a better person. He's one of my best friends and one of my best partners to finish my career here and to play the final. Obviously, we couldn't get over the line but there's no better place for me and a person for me to finish my Grand Slam career. So thank you, Rohan, for playing," she said.
Sania said that her family and team is there with her. " I never thought that I would be able to play in front of my child in a Grand Slam finals, so it's truly special for me to have my four-year-old here, and my parents here and Rohan's wife here, Scotty, everyone, my trainers, my family from Australia, who made me feel like home away from home."
The star thanked everyone for their support. "Thank you so much for all the support all week guys and all my life, really. It's been truly, truly special and I wouldn't have achieved anything without each and every single one of you," said Sania.
Concluding her speech, she said: "Thank you very much for everything and thank you, Australia for making me feel at home."