Hamza Shehbaz sworn in as Punjab CM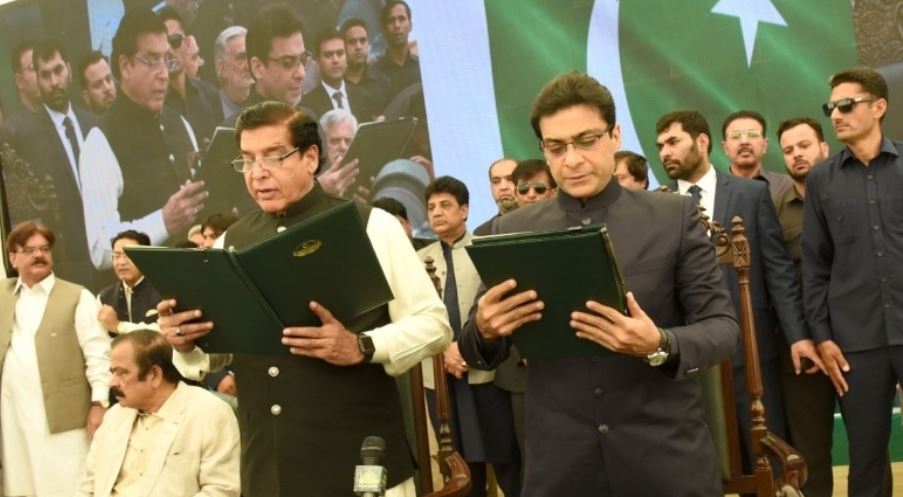 LAHORE, APR 30: After weeks of deadlock, National Assembly Speaker Raja Pervaiz Ashraf administered oath to Punjab Chief Minister-elect Hamza Shehbaz at a ceremony held at the Governor Houseon Saturday, just hours after Governor Omar Sarfraz Cheema rejected Usman Buzdar's resignation, deeming it "not constitutionally valid".
In unprecedented scenes today, Buzdar's cabinet was "restored" by Cheema, according to former provincial education minister Murad Raas, which even convened for a meeting, as guests were arriving to the Governor House to attend Hamza's oath-taking ceremony.
While the ceremony was underway, Governor Cheema urged the chief justice to take notice of the "ghunda gardi" at the Governor House. He also said the "drama of a fake chief minister's oath" was being performed in an "unconstitutional" manner.
Later, the Punjab chief secretary notified that Hamza had assumed the charge of the chief minister's office.
"Consequent upon assumption of office of chief minister of Punjab by Mr Muhammad Hamza Shahbaz Sharif on 30th April, 2022, Mr Usman Ahmed Khan Buzdar, chief minister of Punjab under provision of Article 133 of the Constitution of Islamic Republic of Pakistan, 1973, has ceased to hold office with immediate effect," the notification read.
However, Cheema termed the notification for Hamza's assumption of the CM office "fake".
"As the governor, I am not allowing the notification for the appointment of any unconstitutional and fake chief minister. The way they forcibly and deceitfully put up a drama of the oath-taking, they have now attempted to prepare a fake notification for it," he tweeted.