Govt to take parliamentarians into confidence over talks with KSA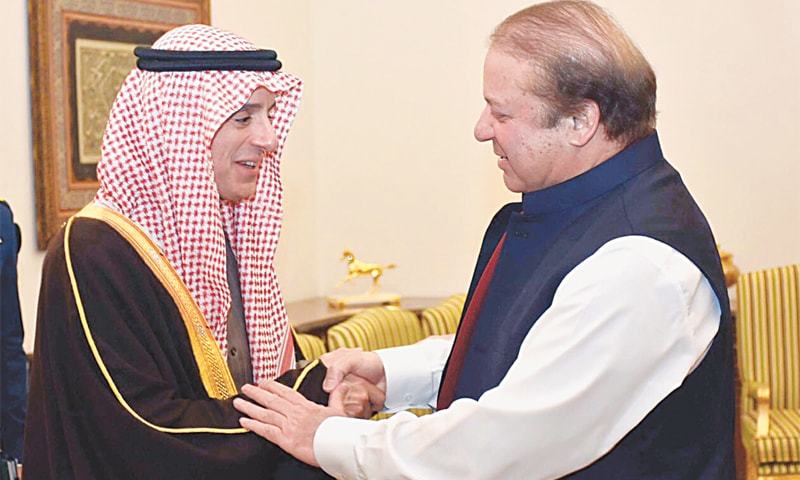 ISLAMABAD: Government has decided to take parliamentarians into confidence over high-level contacts that have taken place recently between Pakistan and Saudi Arabia following a diplomatic row between Iran and Saudi Arabia.
"A joint meeting of the Senate and the National Assembly Standing Committee on Foreign Affairs has been summoned tomorrow at Parliament House," Senator Mushahid Hussain Syed told media personnel on the sidelines of Islamabad quadrilateral dialogue on Afghanistan reconciliation.
He said the Adviser to the Prime Minister on Foreign Affairs Sartaj Aziz would take the joint committees into confidence over all negotiations held with Saudi foreign Minister and defence minister during their visits to Islamabad. The session would be in-camera, he said.
Mushahid Hussain, who is also the Chairman of the Senate Defence Committee, said Pakistan would not be sending its troops to fight in the Saudi-led anti-terror alliance and that Pakistan's cooperation would be confined to counter-terrorism only.
The execution this month of Saudi Shia cleric Sheikh Nimr Baqir Al Nimr and the subsequent reaction from Iran, including storming of the Saudi embassy in Tehran, sparked the crisis in the already tense relationship between the two countries. Saudi Arabia responded by cutting off its diplomatic relations with Iran and many of its Arab allies followed suit.
During Saudi Foreign Minister Dr Adel Al-Jubeir's visit to Islamabad last week, Pakistan assured Saudi Arabia of its unconditional support.
This was followed by the visit of Saudi Defence Minister Mohammad bin Salman on Sunday. While Chief of Army Staff Gen Raheel Sharif assured Prince Mohammad of "strong response" to threats to his country's territorial integrity, Prime Minister Nawaz Sharif called for resolving its crisis with Iran through diplomacy and offered Pakistan's good offices in this regard.
The opposition attacked the government in the National Assembly last week for not coming up with a clear stance on the situation arising out in the region because of the tension between Saudi Arabia and Iran and called for a parliamentary briefing on the issue.