Ghana hosts business delegation from Pakistan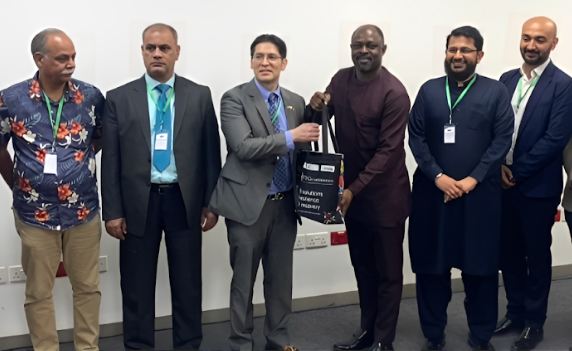 ISLAMABAD, JUN 15 /DNA/ – Ghana Export Promotion Authority (GEPA) hosted a high-powered business delegation from Pakistan to discuss investment and export opportunities in Ghana.
In a meeting held at the Africa Trade House in Accra, the 8-member delegation, comprising leading businessmen from Pakistan, was encouraged to invest in Ghana by partnering with local companies.
The Pakistani delegation was told that West Africa is a very lucrative market that is attracting investment from all over the world, and Pakistan should not miss the boat.
On the occasion, Pakistani Vice Consul to Ghana Omar Shahid Butt said that Pakistan sees Ghana as an ideal destination for businesses aiming to do business in the Economic Community of West African States (ECOWAS) region.
He said that many Pakistanis are already engaged in business in Ghana; the delegation representing various sectors with interests like ICT, sports, healthcare, pharmaceuticals, medical supplies, lubricants, garments, and textiles has made some deals; and they are very serious about promoting trade ties with Ghana.
He said that we are trying our best to bring both the countries together through enhanced trade ties.
Deputy CEO of GEPA, Albert Kassim Diwura, assured the businesspersons of full support, saying that Ghana is open to all businessmen and that we are committed to supporting companies.
He said that encouraging investment in NTEs falls in line with the implementation of Ghana's National Export Development Strategy, an initiative to increase non-traditional exports from $3.33 billion to $25.30 billion by 2029.
Mr. Diwura also urged foreign firms to take advantage of joint ventures and partnerships with Ghanaian companies to boost their businesses.