Gen Qamar Javed Bajwa hands over baton of command to Gen Asim Munir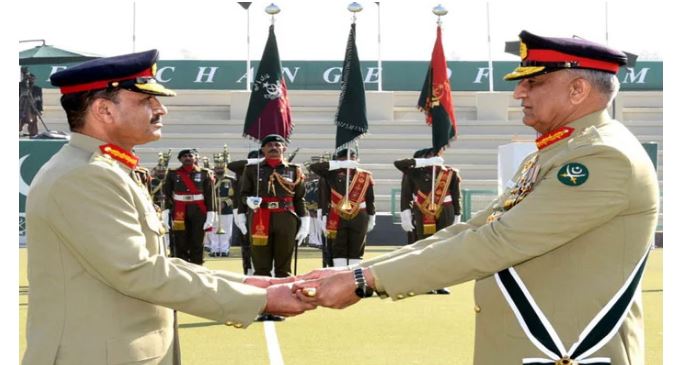 Gen Asim Munir becomes 17th COAS of Pakistan.
Gen Bajwa hands over command to Gen Asim Munir in ceremony at GHQ.
General Bajwa presented guard of honour for last time as COAS.
RAWALPINDI, NOV 29: General Qamar Javed Bajwa on Tuesday handed over the command of the Pakistan Army to his successor General Asim Munir in a ceremony held at the General Headquarters in Rawalpindi.
With the change of command, Gen Munir has become the 17th army chief of the Pakistan Army when Gen Bajwa handed over the baton to him. Before handing over the command, Gen Bajwa, in his last address, congratulated his successor Gen Asim Munir for being promoted to the four star rank and as the head of the army.
"I have full faith that under his leadership army will reach new heights and his appointment will prove to be a positive for the country," said Gen Bajwa. He added that he was happy to know that he was retiring by handing the army to an able officer like Gen Munir.
Gen Bajwa said that his journey in the army started 44 years ago and has ended today.
"I am thankful to Allah that he not only gave me an opportunity to work in the courageous and great army but also honoured me to command this army," he said.
Appreciating the Pakistan Army, Gen Bajwa said that his prayers will always be with it in difficult times.
"I am proud that the army protects the borders from Siachen to Thar despite having limited resources," he added.
Gen Bajwa said that the army defends regardless of language, colour, caste and religion.
"I will soon go into oblivion, but the spiritual connection will always remain with the army," said General Bajwa.
Earlier, General Bajwa was presented guard of honour for the last time as the chief of army staff during the ceremony.
The change of command ceremony marks the time-honoured tradition that symbolises the seamless transition of military leadership.
The ceremony was attended by the Chairman Joint Chiefs of Staff Committee General Sahir Shamshad Mirza and chiefs of the armed forces. It was also attended by senior serving and retired military officers with their families.
Chief ministers, federal ministers, secretaries and foreign military officers deployed at embassies were also present at the ceremony. Before the ceremony, Gen Bajwa visited the Yadgar-e-Shuhda for the last time as chief of army staff. Gen Munir had accompanied him during the visit.
Gen Munir was chosen to lead the country's army by Prime Minister Shehbaz Sharif on November 24. The summary of his appointment was approved by President Arif Alvi the same day.
Gen Asim Munir
Gen Munir was commissioned in the 23rd Frontier Force Regiment in 1986. He passed out with the 17th Officers Training course, Mangla and was awarded the coveted sword of honour.
Before taking charge he was posted as the quartermaster general at the General Head Quarters.
Before taking charge as COAS, Gen Munir was also posted as a directing staff in Command and Staff College, Quetta, brigade major of a deployed infantry brigade in Kel, general staff officer, grade-2, CGS secretariat and chief of staff of Mangla corps.
Gen Munir has commanded the 23rd Frontier Force Regiment, Infantry Brigade, remained as a force commander in Northern Areas, Gilgit.
The incoming army chief has also served as the director general of Military Intelligence (MI).
In 2018, Gen Munir was appointed as the director general of the Inter-Services Intelligence (ISI) and later transferred as corps commander Gujranwala.
After heading the Gujranwala corps, he was posted as quartermaster general which was his last assignment before becoming COAS.
Gen Munir graduated from Fuji school Japan, Command and Staff College, Quetta, Malaysian Armed Forces College, Kuala Lumpur and National Defence University, Islamabad.
The general also has M Phil in Public Policy and Strategic Security Management from National Defence University.
Gen Munir has become the first army chief who has headed both — MI and ISI. He is also the first army chief awarded the Sword of Honour.
Gen Munir is a keen sportsman, avid reader, traveller and also a Hafiz e Quran.