National foundation day of Korea celebrated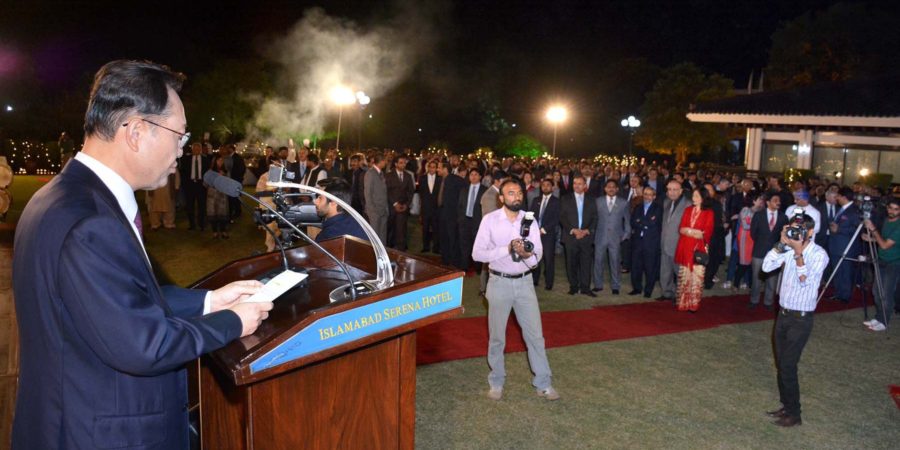 ISLAMABAD, OCT 19 (DNA) – Ambassador of Republic of Korea to Pakistan Suh Dong-gu has said Korea and Pakistan enjoy cordial relations adding these relations have progressed with the passage of time.
The Korean ambassador was speaking on the occasion of National Foundation Day and Armed Forces Day of Republic of Korea.
The ambassador said, "I must confess that I am very happy to come to Islamabad at this time in terms of strengthening bilateral relationship between Korea and Pakistan".
He said, politically, we had summit meeting between Prime Minister Nawaz Sharif and President Park Geun-hye last year and Economically, we are talking about Free Trade Agreement.
Diplomatically, we will have first Strategic Dialogue quite soon. Culturally, we had the first K-pop festival in Pakistan last July.
In this regard, I want to assure you that I will use this precious momentum to upgrade our bilateral ties to a new height during my term of office here in Pakistan he added.
"Look at the sky. It's a beautiful evening. Tonight, you can find some samplers of Korean food and drinks: Kimchi, Bulgogi, Soju and Makgully. Especially, we invited world famous Korean Music Group for tonight's event. They will play Korean traditional instruments", the ambassador said.
In the end, the Korean cultural artists presented a mesmerizing performance. =DNA