Former President Asif Ali Zardari's interview to a private TV Channel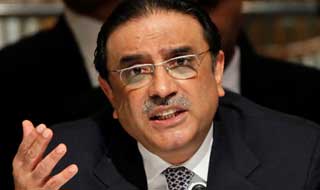 Islamabad, 21 November 2016: Former President and President Pakistan Peoples Party Parliamentarians Asif Ali Zardari in an interview to a private news channel said that if he had not introduced Bilawal Bhutto Zardari in politics, he would have felt that he is being untrustworthy to the political struggle of Bhutto family because the words on Shaheed Zulfikar Ali Bhutto read "Here lies the servant of the people".
His responses to several questions on different subjects were composed and clear. In response to a question about security threats to Bilawal Bhutto Zardari, he said that life and death is in the hands of Almighty Allah.
Former President said that he is not in exile but he is away from his country. He will return in a few weeks time. He had taken a backseat to give responsibility to Chairman Bilawal Bhutto Zardari who is doing very well in politics.
Regarding the arrest of former federal minister Dr. Asim, he said that Dr. Asim belongs to a very respected and learned family whose grandfather Dr. Ziauddin was Vice Chancellor of a university. Dr. Asim was arrested because of misunderstandings and for being a soft target. He has been granted bail in one case and will be granted bail in the other case soon, former President hoped. Regarding possibility of his arrest on his return to Pakistan, he said that jail is not a new place for him and he is not afraid of being imprisoned. He said that in Pakistan if any politician is afraid of being imprisoned then he should not do politics in Pakistan.
In response to a question about panama leaks, Asif Ali Zardari said that four demands by Chairman Bilawal is the way out for this government. This issue should have been settled in Parliament instead of courts as democracy is strengthened in the Parliament and not in courts. Democracy evolves in Parliament and political issues should be discussed and decided in the Parliament. He said that he will follow the party's decision and if party decides to start "Go Nawaz Go" campaign then he will follow the party. With regard to character assassinations of politicians on TV talk shows, he said that in these shows, politicians blame each other and the compare remains the victor as politicians badmouth each other. He advised politicians to refrain from discussing their differences on TV talk shows and discuss all these issue in the Parliament.
Talking on Economic Corridor with the Chinese, former President said that during his tenure as President nearly every week Chinese delegations used to visit him and he used to make them realize the importance of neighbours and the region. He made them aware of the importance of Gawadar Port and that was the beginning of Economic Corridor Project with China. There were some hurdles as then Chief Justice Iftikhar Chaudhry had stay order but we convinced him that this project is a national agenda and not personal agenda so he vacated the stay order. Another hurdle was to take back Gawadar Port from Singapore and distinguished businessmen from Karachi Aqeel Dhedi, a true patriot, was contacted as he also had shares with Singaporean company and he was helpful in acquiring back Gawadar Port. Several individuals were opposing this project like they had opposed power projects during Shaheed Mohtarma Benazir Bhutto's second tenure as Prime Minister. Pakistan suffered immensely due to opposition to power projects because we were trying to make Pakistan an economic hub but unfortunately some people stopped that progress.
In response to a question about 18th amendment in Constitution, he said that democracy is essential for Pakistan and provincial rights are as essential for federation so PPP government by 18th amendment in the Constitution connected provinces with Islamabad. That connection was vital for progress of the country.
Regarding elections of Donald Trump as US President, he said that it was the decision of the people of the United States. The parties of the right are getting popular among people due to some policies and this popularity is the reaction of those flawed policies.
Former President replying a question about issues faced by the people of Karachi said that Karachi is a city of approximately 30 million people. People from all over the country reside in Karachi so the federation will have to allocate special budget for Karachi. He also said that several development projects have been completed in Sindh and several are still in progress and soon they will reach completion.