FM Jilani suspects India aiding TTP terrorists in attacks on Pakistan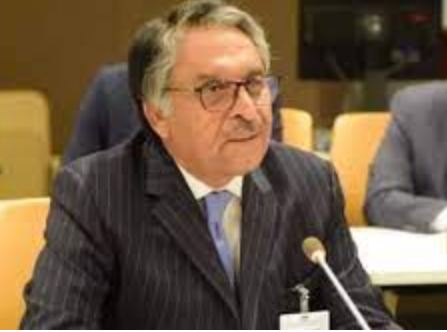 NEW YORK, Sep 23 (DNA): Pakistan has expressed its concern that India
may be aiding the proscribed religious outfit Tehreek-i-Taliban Pakistan
(TTP) which is actively involved in perpetrating acts of terrorism
across the country.
These views were expressed by interim Foreign Minister Jalil Abbas
Jilani during his interview with a private television channel in New
York on the sidelines of the UN General Assembly session on Saturday.
The foreign minister said that India had been involved in the regional
terrorism.
"Not only Pakistan, but every other country has fallen prey to the
Indian terrorism. The terrorism of the Modi government has now
transcended to the West. India may also be aiding the TTP," Mr Jilani
enunciated.
He said Pakistan always had these doubts that India had been abetting
the TTP. "We have raised our voice on every world fora but the West
always ignored us. Now the matter has reached their turf. India is
committing regional terrorism," he added.
The interim foreign minister said that Pakistan shared proofs of the
Indian terrorism with the world but the West condoned it. "Now they are
in the grip of Indian aggression".
On Afghanistan, Mr Jilani said "We have got good relationship with
Afghanistan but its land should not be used against Pakistan."
Foreign Minister Jalil Abbas Jilani met his Russian counterpart Sergey
Lavrov in New York and discussed bilateral cooperation between the two
countries.
The meeting was held on the margins of the 78th session of the United
Nations General Assembly.
Both sides reviewed progress made during 5th round of Bilateral
Political Consultations held in Islamabad in June 2023, the Foreign
Office said.
Meanwhile, Foreign Minister Jilani and his Egyptian counterpart Sameh
Shoukry met in New York and reviewed the current status of bilateral
relations.
Both sides agreed to further enhance bilateral engagement and
cooperation between the two friendly countries, the Foreign Office said.
Foreign Minister Jalil Abbas Jilani on Friday proposed the adoption of
an action plan by the Group of 77 and China for reforms in the
international financial architecture to support the developing
countries.
He also suggested the creation of mechanisms within the UN to monitor
and implement these reforms.
The foreign minister outlined Pakistan's views in an interactive
dialogue on 'A path for the reform of the international financial
architecture' at the 47th annual meeting of Foreign Ministers of Group
of 77 & China, Foreign Office Spokesperson said in a press release.
Jilani said that over the past three years, the economies of the
developing countries had been devastated by the impacts of the Covid-19
pandemic; climate-induced disasters and proliferating conflicts.