Ex-PM Sharif chairs brief meeting with confidantes at Punjab House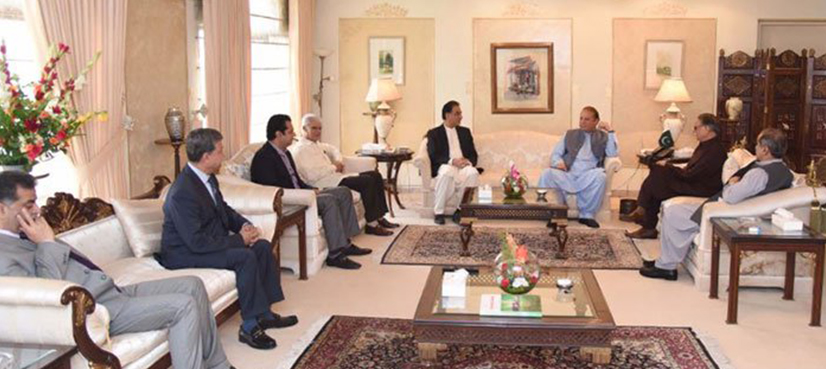 ISLAMABAD, SEPT 25 (DNA) – After arriving in Pakistan on early Monday morning, Former Prime Minister Nawaz Sharif has held a brief meeting with confidantes at Punjab House.
According to informed sources, the former premier has questioned his disqualification once more, besides considering to appear before the accountability court despite some of his close aides have advised him not to show up at the court.
Earlier today, he landed at Benazir Bhutto International Airport around at 7:45am after spending about a month in London with his ailing wife Kulsoom Nawaz, who is undergoing treatment for cancer.
Sharif's children including daughter Maryam Nawaz and sons – Hussain and Hassan Nawaz – who have been subpoenaed on Tuesday (tomorrow), are still in London.
The ex-PM had taken the decision to fly back to the country after consulting his close aides during various meetings held in London.
Earlier, the Sharif family was failed to show up at the accountability court on September 19 as most of the family members were in London.
Subsequently, the court had directed the former prime minister and members of his family to appear before it on Sept 26 in graft references filed by National Accountability Bureau (NAB) against them.
Judge Muhammad Bashir directed Pakistan Muslim League Nawaz (PML-N) leader Asif Kirmani, who was present in the court, to inform the Sharif family about the fresh summons.
At the outset, NAB prosecutor submitted the implementation report, saying a security officer deputed at the Lahore residence of the Sharif family refused to receive the summons. He quoted the security officer as saying that Hussain Nawaz and Hassan Nawaz had instructed him not to receive the summons.
The judge censured the NAB official for failing to serve the summons and said these summons were for the Sharif family and not their security officer.