Entire region to benefit from CPEC, says Tariq Fatemi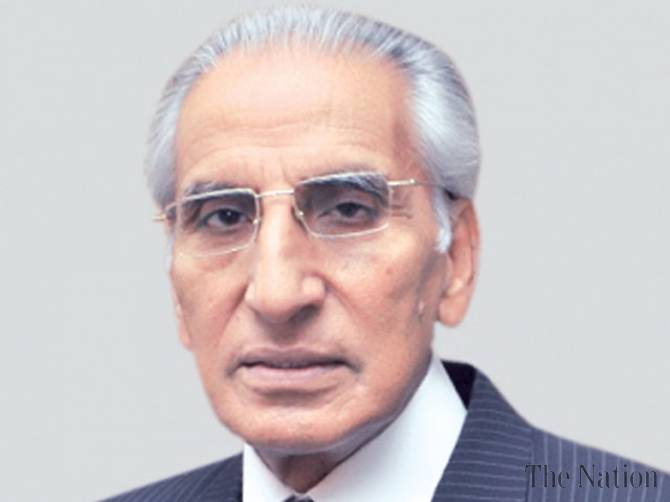 GT: How is the current situation of the China-Pakistan Economic Corridor (CPEC)?
Fatemi: The CPEC is part of the vision of "One Belt, One Road" that President Xi Jinping has been presenting to the nation.It is a project that will not only bring prosperity to Pakistan, but also benefit the entire region.
As stated by Xi in his speech to the parliament of Pakistan in April 2015, the project includes three major areas of activity. One relates to energy projects, the second relates to infrastructure projects, and the third relates to the port of Gwadar.
The current total package is of about $46 billion, of which $35 billion are envisaged for energy projects, in which Chinese companies will collaborate with Pakistani companies to set up power plants, because power shortage is the biggest challenge that Pakistan is facing currently. The other $11 billion will be loans extended by Chinese financial institutions.
Now the projects will bring visible transformation in Pakistan.
GT: Can you give us more details about building the port of Gwadar into an economic harbor?
Fatemi: A major element of interest for both China and Pakistan is the upgrading of the Gwadar deep port facilities. The location of Gwadar makes itself an ideal port for all-weather operation as it sits at the mouth of the Gulf.
The port is also ideally suited for both entry and exit of items that are of interest to Pakistan, to China and to the entire region.
We are creating an entire industrial zone around it, because the cost of manufacture in Pakistan is much lower than it is in China. Your production costs will decrease and our own people will also gain employment.
China and Pakistan will jointly build an international airport in Gwadar. Sadly, disturbances take place everywhere. In Pakistan, we recognize that we have to take special measures to ensure the safety and security of Chinese friends and China's enterprises.
We decide to create a special force of highly trained people, who will be specially trained, and we will have a special organization backing them, whose task will be to provide the necessary safety and security to the Chinese who are working in Pakistan and Chinese enterprises. The special force will be roughly about 10,000 people.
We want to take every initiative to give the necessary degree of comfort and ease to those Chinese that have come to Pakistan.
GT: The first quadrilateral group meeting tried to advance the reconciliation of Afghanistan. China and Pakistan share many stakes in the Afghan peace process. How are China and Pakistan cooperating on this issue?
Fatemi: Both Pakistan and China are neighbors of Afghanistan, Pakistan and China are also neighbors. It means that we are all interested in the peace and stability of the entire region.
China has always been a powerful factor in promoting peace and stability in the region.
With US, NATO and Western forces leaving Afghanistan, we have to sit down and determine how we have to promote peace and reconciliation in Afghanistan.
We have told Afghan President Ashraf Ghani that he is the legitimate elected head of the state of Afghanistan. He and his team have to determine what initiative they want to take, so any proposal for regional peace and stability should be Afghan-owned and Afghan-led.
As neighbors and friends of Afghanistan, we are willing and ready to play a supporting role.
Ghani has to lead the way and we are there to provide the necessary support and assistance.
During a conference of countries that have interests in Afghanistan, which is known as "the Heart of Asia" that took place in Islamabad on December 10, 2015, it was decided that peace and reconciliation process in Afghanistan should be promoted and assisted by the quadrilateral consultative group, consisting of China, the US, Pakistan and Afghanistan.
GT: Indian Prime Minister Narendra Modi paid a surprise visit to Pakistan in late December. How should we view this visit?
Fatemi: It was a surprise, unofficial and informal visit by Modi. He arrived on a day that happened to be the birthday of Pakistan's prime minister, so it was a very warm and friendly atmosphere.
Relations between Pakistan and India are essential, not for one but for both countries.
The prime minister's policies regarding India are very well known. There is nothing hidden about it. He publicly says he wants good relations with India and this has been his belief for many years. Every time he has come to power, he reaches out to the Indian leadership. He tries to initiate a dialogue process with India.
The important thing is that if there is even the slightest hint of an interest in cooperative relations coming out of India, we are ready to respond.
We are also hoping that very soon the meeting at the level of the foreign sectaries will also take place that will mean the beginning of formal dialogue. Neither country can afford a relationship of tension and hostility.
GT: Pakistan and India hope to become full members of the Shanghai Cooperation Organization (SCO). The organization will have its annual gathering in Tashkent in June. What does Pakistan expect from the SCO?
Fatemi: Pakistan has been an observer in the SCO for nearly 10 years. We feel that our geographical location, political orientation, economic linkages and cultural and historic ties all lead to the conclusion that Pakistan deserves to be a member of this organization.
The issues that led to the establishment of the organization are also those in which Pakistan plays an important role: counter terrorism, counter money laundering, and promoting connectivity, economic cooperation.