Empowering women is a worthy cause: Chairman CDA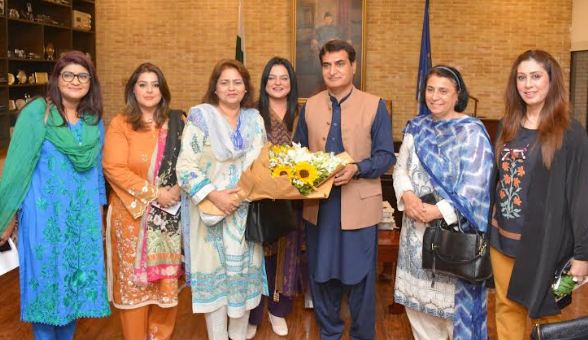 ISLAMABAD, JUN 6: /DNA/ – Chairman CDA Captain (Retd) Noor Ul Amin Mengal has said that empowering women is high on his agenda, and businesswomen will be facilitated so that they can grow and play their positive role in national development.
He said that women comprise the majority of the population, and they should be brought into the mainstream, which is imperative for national development.
Chairman CDA said this while talking to a delegation of businesswomen led by Samina Fazil, founder president Islamabad Women Chamber of Commerce and Industry (IWCCI).
He said that businesswomen have suffered a lot due to the pandemic and the economic conditions; therefore, CDA is going to offer support to businesswomen to help them overcome the losses.
The present situation has made things harder for women mainly those involved in businesses, and those facing poverty due to multiple reasons, he said.
Chairman CDA Captain (Retd) Noor Ul Amin Mengal said that we will try our best to support businesswomen, as the majority of them are related to the services sector.
During the meeting Samina Fazil and President IWCCI Rizwana Asif demanded allocation of space in F-9 Park where IWCCI can conduct exhibitions three times a year, a plot for the office of IWCCI at a suitable location, and a space for a display centre to facilitate women artisans, introduce them to foreign buyers to trigger exports.
The leaders of IWCCI also demanded space for a one-day Sunday Bazaar in the F-9 Park and for Dastakar Bazaar.
Noor Ul Amin Mengal took these demands very positively and said that all the demands are justified. He said that it is the right of the women to promote themselves, and we have a responsibility to support them so that they can improve their businesses.
He directed the concerned quarters to look into the demands of businesswomen and resolve their issues on a priority basis.