EFP organizes ILO-supported 17th Occupational Safety, Health, Environment Awards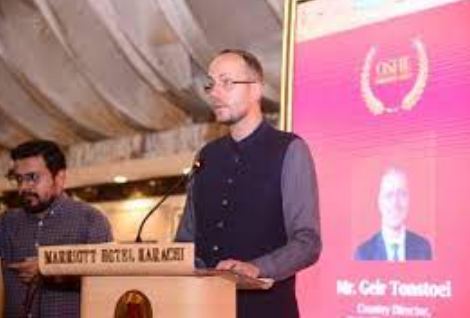 ISLAMABAD, SEP 26 (DNA) — Supported by the International Labour Organization (ILO), the Employers' Federation of Pakistan (EFP) organized the 17th Occupational Safety and Health Award, to recognize the efforts of Pakistani enterprises that have demonstrated good occupational safety and health (OSH) practices and taken innovative initiatives to ensure the safety of workers at the workplace.
According to a press release here Tuesday, over the last 17 years, more than 550 companies have been recognized for their good OSH practices and assisted in improving workplace health and safety through training and guidance provided by the ILO and EFP.
The ceremony was attended by representatives from the Government, employers' and workers' organizations, and enterprises – including winning and participating enterprises. Omer Soomro, Minister for Law and Religious Affairs, Government of Sindh, attended the ceremony as chief guest.
"Occupational safety and health is a fundamental principle and right at work. ILO is pleased to acknowledge that the Government of Pakistan is actively pursuing the ratification of ILO's core OSH Conventions, Number. 155 and Number 187," said Geir Tonstol, ILO's Country Director for Pakistan. "The ratification of these two Conventions would further demonstrate Pakistan's commitment to a safe and inclusive world of work," he added.
Recognizing the private sector's role, Geir Tonstol said that the private sector plays a significant role in fostering a culture of prevention, facilitating the sharing of best corporate practices, and establishing robust connections with national authorities responsible for labour issues, "Health and safety are crucial for the long-term sustainability of businesses".
"EFP recognizes that OSH is not only a fundamental right but also a moral and practical necessity. In 2022, the International Labour Conference in Geneva adopted the ILO's two OSH conventions as core labour standards, thereby increasing the responsibilities of the government, employers, and workers to respect and comply with OSH legislation," said Malik Tahir Javaid, President of the Employers' Federation of Pakistan.
Tahir Javaid emphasized that the development of local industry and industrialization in Pakistan are the only solutions to addressing the challenges that the economy is currently facing, including increasing unemployment and poverty. "We, therefore, request the Government to place more importance on skills development, simplification of labour legislations and strengthening of social protection and other mechanisms to support the industry," he added.
"The Sindh Government is fully committed to promoting a culture of health and safety, making the well-being of its people a central focus of the province's sustainable development and growth strategy," said Omer Soomro, Minister for Law and Religious Affairs, Government of Sindh
Omer Soomro urged employers, especially those in export sectors, to adhere to ILO Labor Standards, including OSH Conventions, to continue benefitting from the EU's GSP Plus benefits and support Pakistan's sustainable development through increased exports.
Also speaking at the occasion Zahoor Awan, ILO's Governing Body Member, and Munazza Gillani, Country Director Sight Savers, appreciated this very important initiative coming directly from employers and also stressed upon the need to collectively work further on promoting health and safety, especially for individuals with special needs. — DNA