PM says boosting exports top priority of Govt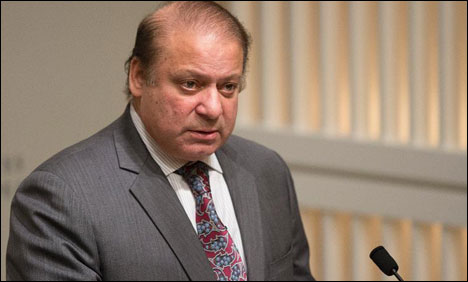 KARACHI, 08 SEP (DNA) – Prime Minister Muhammad Nawaz Sharif has said boosting the exports of the country is the top priority of the Government. He was talking to a group of leading industrial exporters of the country who met him in Karachi on Thursday.
The Prime Minister said economic growth and exports are interlinked. He said we can't afford to ignore our exports. Nawaz Sharif said that government will give short, medium and long term relief to the exporters so that no segment is missed to achieve our growth targets.
The Prime Minister said that exports are future of our economy. He said our vision is to spread dividends of economic turnaround among all the stakeholders in an equitable manner. He said increased economic activities and ease of doing business will result in reduction in unemployment and alleviation of poverty from the country.
Nawaz Sharif said the improved infrastructure of railway will provide relief to the exporters in terms of reduction in freight charges. He said the landmark CPEC will further complement the benefits of improved railway infrastructure.
The Prime Minister said Special Economic Zones are being established under the CPEC to provide an ideal platform for facilitating the country's exporters. The Prime Minister directed Ministry of Commerce to make arrangements for duty free import of additional five million bales of cotton in the wake of low cotton exports of the country.
The Prime Minister also directed that a proposal in this regard be immediately be presented before the Cabinet for approval. The exporters lauded the economic turnaround achieved under the leadership of the Prime Minister and said historic foreign exchange reserves coupled with improved security situation in the country has reinforced confidence of the exporters.
The exporters said the economic turnaround achieved due to the prudent and investor friendly policies of the present government is indeed commendable. The exporters apprised the Prime Minister that they are rendering great efforts for rise in country's exports in the wake of robust economic growth and support of the government.
The exporters appreciated the decision of importing LNG by the government. Governor Sindh Ishratul Ibad and CM Sindh Murad Ali Shah were also present during the meeting.
Addressing the awards distribution ceremony of best performing companies in Stock Exchange, the Prime Minister said all out efforts are being made to take the country forward on the path of progress and prosperity. He said the Government has a vision of cheap and abundant supply of electricity in the country and for this purpose working is continuing on various projects. DNA