DW teams up with Karachi Golf Club to promote Golf in Pakistan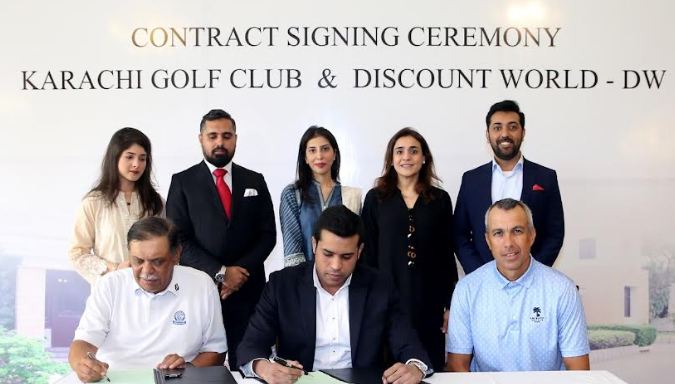 The collaboration of Discount World with Karachi Golf Club is aimed at providing exclusive benefits for the members
Karachi, JUL 12: /DNA/ – Discount World (DW) today inked a memorandum of understanding with the Karachi Golf Club, which is the oldest golf club in Karachi offering a27-hole golf course, making it one of the largest green areas in Karachi, the club was an affiliate of the Sindh Club in 1888, and later on registered as an independent club in 1891.
Discount World in its efforts to facilitate its VISA members, has partnered with the Karachi Golf Clubto promote Golf in Pakistan, and with the club known for hosting several championships for golfers in the city, the move is aimed to further develop golf in Pakistan.
DW's strategic alliance will not only be a revolutionary move to promote Golf in the country, but will also facilitate the Golf players across the country to live their dream and excel on the lush green Golf field as a result of the alliance between the two organizations powered by VISA.
"We are elated to partner up with Karachi Golf Club for providing the best services on offer for the valued members. This partnership in alliance with VISA will just be the right step for the golf community and also a high potential to attract new golfers in Pakistan. And our alliance with the historical golf club will be one such move that could serve to promote golf in Pakistan like never before in the past." said Sultan Richard, Chairman & CEO, DW.
The MoU was signed between Sultan Richard and Vice President, Karachi Golf Club, Mr. Khurram Khan, in the presence of Bilal Rafi Muneer, Captain, Karachi Golf Club alongside the esteemed presence of Syed Shahnam Hasan, Lead CVP, VISA and ZoobashSaleemi, Lead Business Development, VISA.
Welcoming the joint alliance powered by VISA, Vice President, Karachi Golf Club, Khurram Khan said, "It is a great privilege to tee off this partnership with Discount World which has been powered by VISA, this alliance will pave the ways for the people possessing the love for this sports, and will simultaneously help to attract more people towards golf in Pakistan, and thus paving the ways for representing Pakistan on the golf fields domestically and internationally".