Ali Awan blasts Islamabad police for expressing ignorance about his brother whereabouts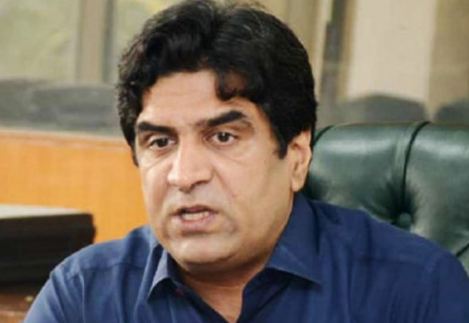 Says PDM's scare to announce polls, as people to bury their politics forever
Vows brutalities could not dampen his courage
ISLAMABAD: /DNA/ – Pakistan Tehreek-e-Insaf (PTI) Additional Secretary General and PTI Islamabad Region President Ali Nawaz Awan fired a broadside at Islamabad police for expressing their ignorance before the court about his younger brother Umar Nawaz Awan's whereabouts who was kidnapped from federal capital in front of his little childern.
PTI Islamabad Region President said that Islamabad Police crossed all limits of barbarity to kidnap his little children in front of his little daughters who were yet to come out of the shock.
He said that the little souls suffered the shock because their father was brutally treated their presence.
Ali Awan said that the IG Islamabad and the district administration submitted false reports to the Islamabad High Court (IHC) expressing ignorance about Umar Nawaz Awan's whereabouts.
PTI senior leader raised question as to why Umar Awan was abducted and why his house was attacked repeatedly, adding that his house was smashed and his mother and sister were harassed, besides arresting his private secretary.
Ali Nawaz Awan went on to say that these steps were not enough to stratify their ego and even sealed his business office. He stated that they were taking all these illegal steps for his support to PTI Chairman Imran Khan and broke his resole to force him to part ways with him. However, PTI leader made it clear that these brutal tactics and atrocities had made him stronger than before instead of dampening his courage.
Ali Awan vowed that he stood with his leader with stronger determination than before. He saluted the PTI workers for enduring all the opprestions and suppressions during the last two months.
He stated that the PTI was subjedted to the worst and unrecedented atrocities in the political history of the country but they were proud of their brave workers who, despite all the oppression and excesses, were standing with the ideology of true freedom of their leader Imran Khan like a rock.
"God willing, truth will prevail as haqeeqi azadi is the destiny of the people of Pakistan," he added.
Ali Nawaz Awan said that it was the testimony of the victory of Imran Khan's players that even today PDM was reluctant and scare to announce the elections because the people made their mind to burry the politics of these robbers and NRO-affected politicians forever.