Drugs Addiction: A social problem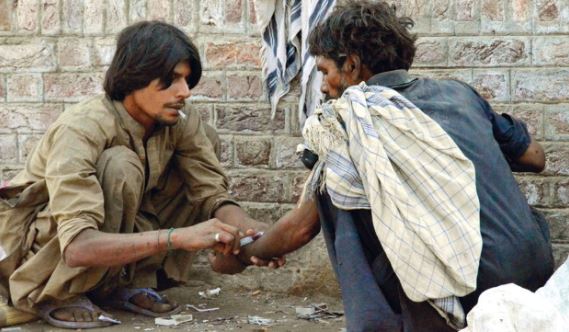 Salwa Sikandar
Addiction is something that can affect human'sbrain and behaviour. When someone is addicted to drugs, he/she can't resist the urge to use them, no matter how much harm the drugs may cause.
In Pakistan, drug addicts are increasing day by day. As per UN report, there are 7.6 million where 78% are male while the rest 22% are female. Now the question is how is it increasing? According to research, mostly the addicts are the youngsters including college and university students.Once it starts at the beginning of university life, then it creates an unstoppable chain of getting more people into drugs.
As it's illegal to export or import substances publicly, so the companies has started smuggling them secretly throughout the world. Drug trafficking is one of the major source of revenue for organised crime groups. The money which they get from it, it'spassed to their other groups who expand other crimes in the nation including buying firearms and financing terrorism.
The role of government is controlling it by stopping it by its cultivation,production, distribution, packaging and transportation. It should start punishing those who are involved in thisdisgusting act. Anti-Narcotic force also has to play its firm role to control it.
Parents should be vigilant and keep eye on the company of their kids and activities as well. Awareness seminars also have to be organised at schools where experts recommend devastating effects of the drugs.