Dr Suleri deems next decade an era of precision agriculture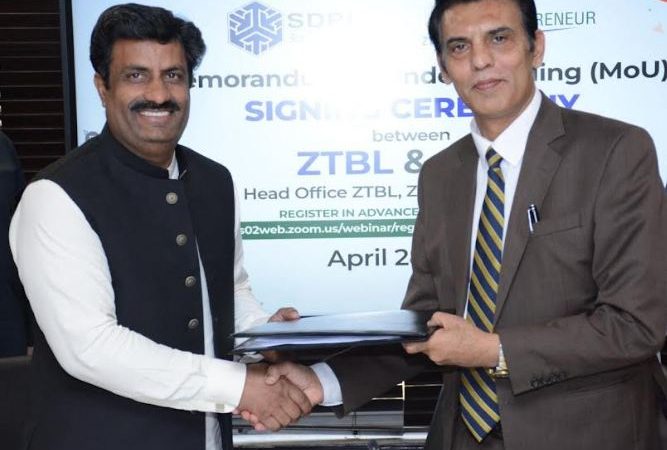 Dr Suleri deems next decade an era of precision agriculture  
ISLAMABAD, APR 29 /DNA/ – A Memorandum of Understanding was signed between Zarai Taraqiati Bank Limited (ZTBL) and Sustainable Development Policy Institute (SDPI) to collaborate for the promotion and adoption of latest/novel technologies, practices, and techniques for improving the agricultural productivity and livelihood of rural communities. Both institutions will jointly organize webinars, field days, seminars, and workshops to share latest advancements in agriculture with rural communities and small farmers. Under a multi-partnership approach, other stakeholders will also be invited to develop and carry out joint ventures, pilot projects, and research activities to cater for today's farm needs.
To further its activities, ZTBL has been conducting Zarai Baithaks (get-togethers) with an integrated approach and SDPI experts will collaborate to develop new ideas and mechanisms to strengthen this initiative by educating masses in rural vicinities of the country. In this regard, the two sides have agreed to develop joint proposals for development of new green-loan products and environmentally sustainable value-addition opportunities in the existing loanable credit products.
SDPI Executive Director Dr Abid Qaiyum Suleri, while delivering a lecture, said that food security is a major concern of Pakistan that is linked with other national security issues and needs to be resolved urgently. Though Pakistan has improved productivity of certain crops, diversification of food basket continues to be a challenge and inadequacies in access to safe drinking water and sanitation facilities. Highlighting the issues of misalignment/lack of coordination between high-standard research and indigenous agricultural technology, he called for the extension of agricultural financing products and capacity building of workers. He said that a golden triangle can be created by converging skills, market, and capital forces.  He urged ZTBL to bridge capital space, harness skills and knowledge of labour, and connect them with the market. He further said that despite the Geneva Pledge, Pakistan has been unable to capitalize on the financing opportunity due to lack of convincing projects. He encouraged ZTBL to collaborate with stakeholders and pitch do-able and achievable projects for agricultural revival and livelihood development particularly focusing on communities affected by the recent floods. He further said that "next decade is the era of precision agriculture", and it is an untapped market for financial institutions which can be exploited by collaboration with research institutions and Armed Forces which have expertise in drone-tech and GIS-mapping. To revive agriculture sector and prevent over-abstraction of groundwater, he emphasized on solarization of tube-wells, he said, adding that it must be coupled with technologies like drip and sprinkle irrigation to replace flood irrigation and tools like water tariff and pricing based on consumption rather than flat rate billing. ZTBL President Asadullah Habib, on the occasion, said: "ZTBL alone serves 78 per cent of small farmers while rest of the banks serve the remaining farmers. This fact is enough to gauge the importance of our bank." He further said the rising population and shrinking agricultural land has put stress on agriculture and stressed adoption of modern and scientific approach to revive agriculture. He informed the participants that through over 500 branches, ZTBL provides swift and indiscriminate financing services to both subsequently and commercial farmers. He informed that ZTBL is proactively providing financial, area specific and capacity building services to one million farmers. Zaigham Mahmood Rizvi, Member of ZTBL Board of Directors, said that $15-20 billion can be added by import substitution of agricultural products and can be instrumental in transforming the socio-economic landscape of rural communities. He further said that revamping the agriculture sector is impossible without empowering rural women and focusing on water conservation and efficiency and renewable energy. He highlighted that despite an impending water scarcity, 70-80% of water consumed in agriculture is wasted.