Afghanistan voices displeasure over being ignored in upcoming trilateral meeting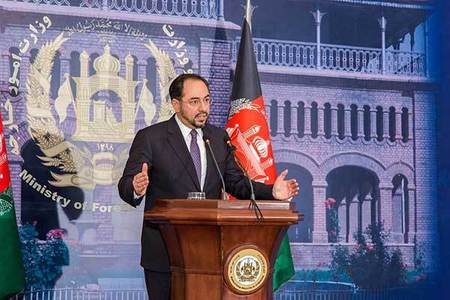 DEC 26, (DNA) – Kabul voiced displeasure over the planned trilateral meeting between China, Russia and Pakistan on Afghanistan in Moscow on Tuesday.
Afghan Ministry of Foreign Affairs' (MoFA) spokesman Ahmad Shekib Mustaghni said on Monday that the agenda of the meeting was a matter of concern.
Despite Afghanistan being the focus of their agenda, Kabul was not consulted, he said.
"Talking on Afghanistan without consulting the country raises serious questions for the Afghan people. We are worried that what are the reasons behind the meeting and want the relevant parties to explain," the report quoted Mustaghni as saying.
The parliament members (MPs), meanwhile, said the holding of such a meeting on Afghanistan, without consulting the incumbent government, is an obvious interference in internal issues.
"We are worried about holding such meetings and the security situation next year," said Abdul Raouf Ibrahimi, speaker of the house.
"Our politicians only sit on seats, but others talk about Afghanistan in Moscow. It is shameful," Saleh Mohammad Saleh, an MP said.
The report went on to say that the expansion of insurgents' activities in Afghanistan, however, has always been a key concern for Russia and central Asian countries.
According to statistics from the National Security Council (NSC), nearly 11,000 foreign fighters are believed to be in the country.
"Russia and China think that America wants to settle cross-border terrorist groups in Afghanistan," Abdul Shokor Salangi, international affairs analyst was quoted as saying..
A source from the ministry of defence also said that currently around 40,000 insurgents are active in the country, while Afghan President Ashraf Ghani had said in the past that more than 30 terrorist groups were active in Afghanistan.=DNA
================