'Despicable act': Pakistan strongly condemns desecration of Holy Quran in Sweden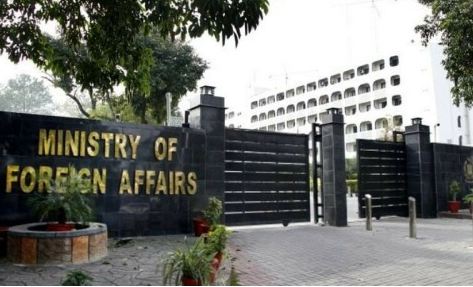 ISLAMABAD, JUN 29: The Foreign Office (FO) on Thursday strongly condemned the "despicable act" of the desecration of the Holy Quran outside a mosque in Sweden on Eidul Azha.
The condemnation comes a day after a man tore up and burned the Holy Quran outside Stockholm's central mosque.
After the burning, Swedish police charged the man who set fire to the Holy Quran with agitation against an ethnic or national group and with a violation of a ban on fires that has been in place in Stockholm since mid-June.
In a statement issued today, the FO said "such wilful incitement to discrimination, hated and violence cannot be justified under the pretext of freedom of expression and protest".
"Under international law, states are duty-bound to prohibit any advocacy of religious hatred, leading to the incitement of violence," it stated.
"The recurrence of such Islamophobic incidents during the last few months in the West calls into serious question the legal framework which permits such hate-driven actions.
"We reiterate that the right to freedom of expression and opinion does not provide a license to stoke hatred and sabotage inter-faith harmony," the FO statement stressed.
It further stated that Pakistan's concerns about the incident were being conveyed to Sweden.
The FO urged the international community and the national governments to undertake "credible and concrete measures to prevent the rising incidents of xenophobia, Islamophobia and anti-Muslim hatred".
Offensive act
On Wednesday, Salwan Momika, 37, who fled from Iraq to Sweden several years ago, had asked police for permission to commit the act "to express my opinion about the Quran".
Ahead of the protest, Momika told news agency TT he also wanted to highlight the importance of freedom of speech.
"This is democracy. It is in danger if they tell us we can't do this," Momika said.
Under a heavy police presence and with around a dozen opponents shouting at him in Arabic, Momika, dressed in beige trousers and a shirt, addressed the crowd of several dozen through a megaphone.
At various times, he stomped on the Holy Quran and lit a few pages on fire while waving Swedish flags, journalists at the scene said.
Earlier this year, Paludan, the leader of Denmark's far-right party Stram Kurs (Hard Line), burned a copy of the Holy Quran in front of a mosque in Denmark on Friday, leading to great outrage among Muslims all over the world.
He had also committed a similar act on Jan 21 when he set a copy of the Holy Quran on fire during an anti-Islam and anti-immigration protest in front of the Turkish embassy in Sweden.