CPEC project transformed Pakistan: PM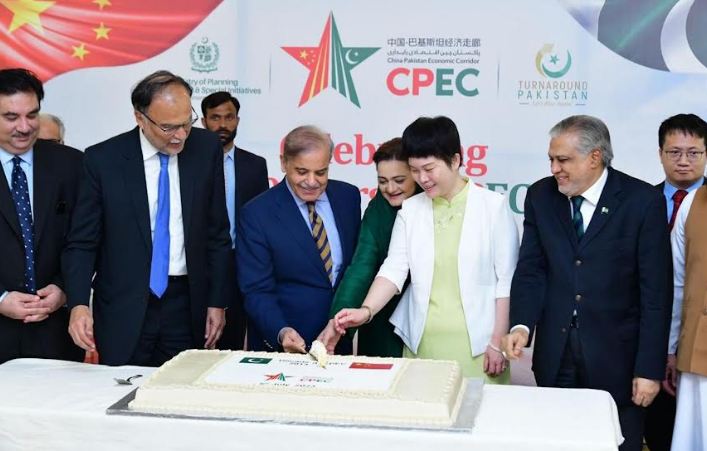 Shehbaz Sharif says the CPEC is all about a story of hard work and untiring commitment between the leadership of Pakistan and China
DNA
ISLAMABAD, Prime Minister Shehbaz Sharif on Wednesday said China Pakistan Economic Corridor (CPEC) played a key role in transforming the development landscape of Pakistan with the launch of several multi-billion dollar projects.
Addressing a ceremony to mark the decade of signing of CPEC, the prime minister said the mega project helped Pakistan progress in the region and the world.
PM Shehbaz said the country ushered in a new era of development with the completion of hundreds of projects under the umbrella of CPEC, including coal-fired power plants, the Orange Line mass transit project, and road infrastructure.
"The CPEC is all about a story of hard work and untiring commitment between the leadership of Pakistan and China," he said.
He recalled that in July 2013, then-Prime Minister Nawaz Sharif visited Beijing, where he signed an agreement, pledging to develop a long-term plan for the CPEC.
"On July 5, 2013, we witnessed the memorable signing ceremony of CPEC, where President Xi Jinping and PM Nawaz Sharif inked the milestone accord," he said.
Terming CPEC a "very transparent" project, the prime minister said the Chinese government and companies made $ 25.4 billion investments in multiple projects.
He said thousands of Chinese along with their Pakistani counterparts, worked day and night to create a history of commitment and exuberance of goodwill between the two sides.
He commended Chinese President Xi for his unstinted support of the CPEC for the well-being of the people of Pakistan.
He also highlighted the dedication of Pakistan Muslim League leader Nawaz Sharif and his team including Finance Minister Ishaq Dar, Planning Minister Ahsan Iqbal, entrepreneurs, and skilled workers, saying their great job would be remembered for all times to come.
Shehbaz Sharif expressed confidence that CPEC would make a big kickstart in various areas including agriculture, Special Economic Zones, Information Technology, and exploration of mineral resources.
He regretted that the previous government created misconceptions about the project which resulted in its slow implementation.
The prime minister thanked President Xi and the Chinese government for supporting Pakistan, especially when it awaited the staff-level agreement with the International Monetary Fund (IMF).
He hoped that the agreement would be given final approval during IMF Board meeting on July 12.
Following the IMF deal, he said, Pakistan was secure after averting default and termed it an opportunity for the country to progress.
"We need to work hard and save the poor people from inflation. Affluent need to play a role in this regard," he said.
He pledged to fulfill the conditions of the IMF which were earlier violated by the previous government.
He also acknowledged the financial support by China including the rollover of its loans and mentioned the backing by Saudi Arabia, the United Arab Emirates, and Islamic Development Fund in helping Pakistan overcome its financial crisis.
Finance Minister Ishaq Dar, Planning Minister Ahsan Iqbal, Information Minister Marriyum Aurangzeb and Chinese Charge d'Affaires Pang Chunxue were also present.