Condemnation not enough, Imran should accept responsibility for May 9 arson: Marriyum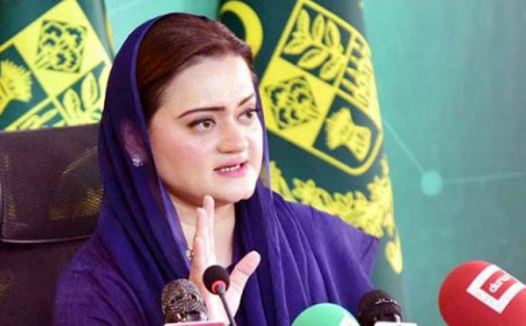 ISLAMABAD, May 19 (DNA): Minister for Information and Broadcasting Marriyum Aurangzeb on Friday said that condemnation of the May 9 was not enough, Imran Khan should confess and accept its responsibility.
Reacting to Imran Khan's statement she said Imran defamed the country when he was in power and defamed it with every action and movement even outside of power. The minister said he defamed the country by selling the watch gifted by Saudi Arabia and he also defamed the country by fabricating the cipher story.
The information minister said that after leaving power, Imran Khan defamed the country by attacking national institutions and martyrs' memorials.
The minister said that condemnation can neither hide the crime of May 9, nor the culprit. She said Imran should admit that he was the mastermind behind the open terrorism of May 9 and the desecration of martyrs' memorials planned by Imran.
She advised Imran that he should confess that he planned to burn down hospitals, schools, mosques, ambulances and the Corps Commander's house.
Imran Khan should hand over the terrorists hiding in "heaven of terrorism", Zaman Park to the law enforcement agencies. A person who instigated his followers to throw bombs, bullets and stones at the police cannot get away with just condemnation. Punishing those who attack the state is not a violation of human rights anywhere in the world, she maintained.
Marriyum Aurangzeb said that attacking hospitals, schools, patients, ambulances, and burning animals alive were violations of human rights, adding that punishing these savages was not a violation of human rights.
She said that arresting daughters-in-law, daughters and sisters of political opponents in false cases by the fascist was a clear violation of human rights.
Kidnapping Tayyaba Gul and keeping her in the Prime Minister House was also violation of human rights, she remarked.
She said that imprisoning, shooting, kidnapping, breaking ribs and nose bones of journalists for telling the truth was also a violation of human rights.
Recalling Imran's statement after Hazara killing, she said that it was a violation of human rights to tell the families of Hazara martyrs that "I will not be blacked by funerals".