COMSTECH Organizes 3-day Online Workshop on Scientific Writing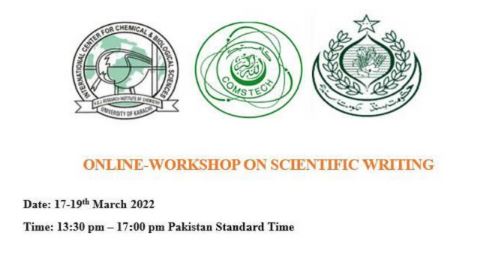 Islamabad, MAR 18 /DNA/ – COMSTECH, International Center for Chemical and Biological Sciences (ICCBS), and Sindh Innovation Research and Education Network (SIREN) jointly organized a 3-day online workshop on scientific writing during March 17-19, 2022 at Latif Ebrahim Jamal National Science Information Center, University of Karachi.
The workshop consisted on lectures delivered by a renowned expert Prof. Dr. Rafat Ali Siddiqui, Senior Investigator at the Methodist Research Institute, and Professor of Cellular Biochemistry, Indiana University School of Medicine, USA. Each lecture followed by extensive exercises, tutorials, and discussion sessions.
Prof. Rafat started from defining scientific writing and answering the question of why one should write, and covered each and every topic of scientific writing in detail from taking notes in the lab to writing abstract and research paper. He taught how to tabulate data, make figures, insert pictures and write their captions as well. He also discussed writing styles and referencing methods in great detail. Prof. Rafat's lectures encompassed taking laboratory notes, presenting conference paper, writing research paper, thesis, research proposal, review article, book chapter, editorial and commentaries.
Students, experienced investigators, postdoctoral fellows, and faculty members from the OIC member states are participating in the workshop.