Commissioner Rawalpindi visits RCCI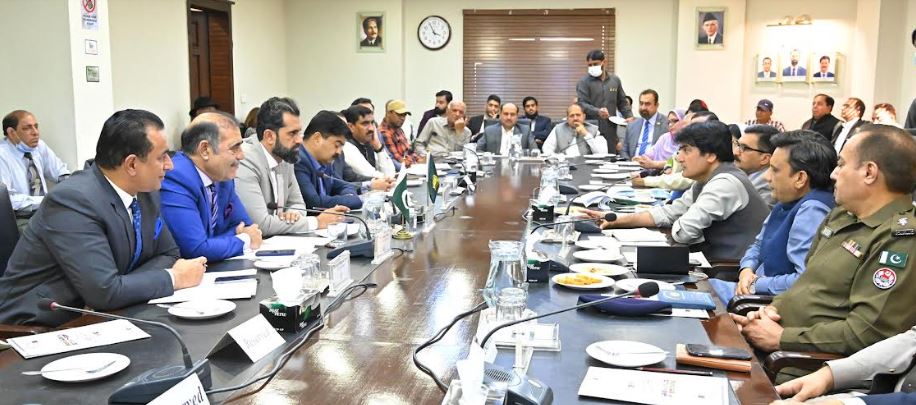 Rawalpindi, MAR 19 /DNA/ – Widening of Kachehri Chowk and design of underpass has been finalized. Mall Road will be made signal free and the Chamber will be represented in Rawalpindi-Islamabad Joint Administration Board. He said that the contract for Ring Road has been awarded to FWO.
These views were expressed by Commissioner Rawalpindi Division Noorul Amin Mengal during his visit to the Rawalpindi Chamber of Commerce and Industry (RCCI). He was accompanied by Deputy Commissioner Rawalpindi Tahir Farooq, Chief Traffic Officer Naveed Arshad, Chief Officer MCR Chaudhry Amjad and CEO RWMC Owais Manzoor Tarar.
Addressing the meeting of traders, Commissioner Rawalpindi Noor-ul-Amin briefed the traders on ongoing development projects including Kechahri Chowk underpass, Ring Road, Gymkhana and Lei Express project. He said that the contract for Ring Road has been awarded to FWO. The meeting also touched on issues related to encroachments, parking, and heritage of old buildings and beautification of the city.
President RCCI Nadeem Rauf briefed the Commissioner on the ongoing activities of the Chamber. He said that encroachment is an important issue in the city and it should be remedied. New parking plazas are the need of the hour and this will ease the traffic congestion.
Group Leader Sohail Altaf said that the representation of the Chamber in the Joint Administration Board would help in resolving the issues in a timely fashion. Board meeting to be convened every week, Rawalpindi-Islamabad demarcation issues shall be resolved on priority basis, he added.
A memorandum of understanding (MoU) was also signed between the Rawalpindi Chamber and the district government on the RCCI's anti-bribery campaign.
Senior Vice President Asim Mahmood Malik, Vice President Talat Awan, executive members, representatives of trade associations and members attended the meeting.