Closure of NBP branches, link down issues perturb pensioners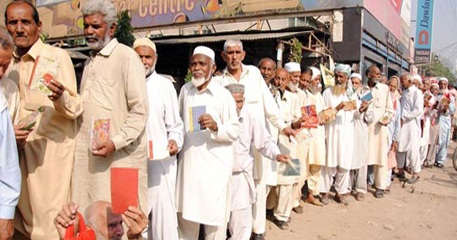 LAHORE, 02 JULY (DNA) – National Bank's online link was reported down on one of the peak days of banking activities ahead of Eid-ul-Fitr on Saturday.
Different branches of the bank out of a total of 1,400 across the country witnessed issues related to bad link, delaying issuance of pensions and failing to support finance-related needs of the locals few days before Eid-ul-Fitr.
Long queues were seen outside different branches in Punjab, Sindh, Khyber Pakhtunkhwa and other parts of the country. Staffers of National Bank Taru Jabba Branch in Nowshera district of Khyber Pakhtunkhwa locked the entrance during working hours, disrespecting State Bank s order while pensioners, many of them with fasts, waited outside.
Pensioners who had started queuing up outside the bank since 8:00 am saw staffers lock the gate while employees sat idle inside. However, not too late after that, the lock was opened and staffers were back to work issuing pensions to the locals.
On the other hand, General Post Office staff of Taru Jabba also did not entertain the pensioners claiming that the department was not issued funds for release of pensions. Officials concerned said that pensioners would be taken care of not before 12:00 pm.
Employees of the GPO in Multan, allegedly helped themselves with bribes and issued pensions to some irked locals. Meanwhile, no separate counter has been established for women customers at the Multan General Post Office.
Problems regarding the online link have surfaced on Saturday when nearly half of branches of every bank are shut but the supreme bank overruled the practice for today in light of the forthcoming Eidul Fitr.
According to spokesperson of National Bank of Pakistan, all 1,400 branches across the country are burdened today owing to the upcoming Eid but the online link has been restored. He further stated that all the pensioners would be entertained by Monday
It could also be noted here that State Bank had revised timings of the banks during Ramazan and eased the bankers of long working hours. Separately, salaries of employees of the Capital Development Authority have not been released and holidays for Eidul Fitr are scheduled to start from Tuesday.
Meanwhile, furious customers waited in long queues outside banks and ATMs across the country to withdraw cash before banks closed for the long Eid holidays. ATMs ran out of cash and banks closed their doors for custome
"I was here to withdraw my salary so that I could take my children shopping. But now the bank staff is misbehaving. My Eid has been destroyed," said an angry customer in Lahore. Meanwhile senior citizens in Peshawar, Muzaffarabad and Lahore staged a protest for non-payment of pe
Banks had announced that they would remain open on Saturday after a State Bank notification ordered that cash be made available before Eid holidays. Banks will remain closed from July 05 to Jul 08. DNA