Chinese artists present a mesmerizing cultural show at PNCA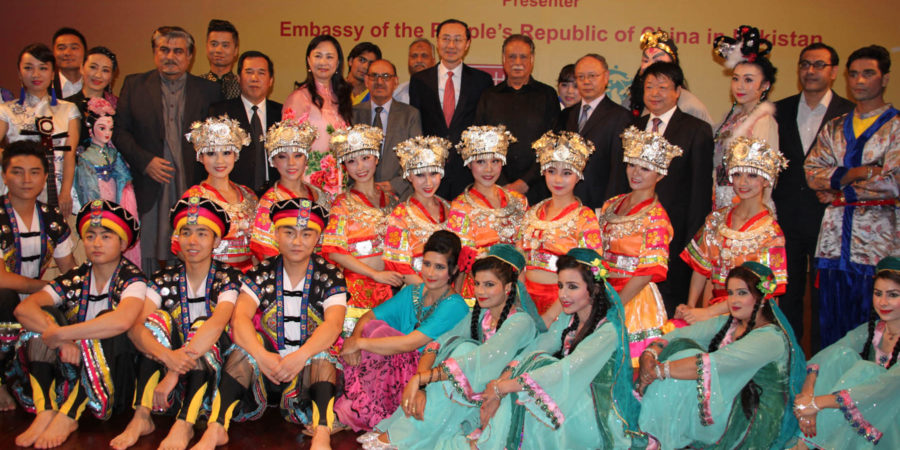 ISLAMABAD, SEPT 29 (DNA) – Pakistan and China enjoys time tested brotherly relations. People of both the countries have deep rooted love for each other and had been working since many centuries.
Silk route is one of the oldest business route in the world and is symbol of friendship reflecting Pak-China closeness, remarked Federal Minister for Information, Broadcasting and National Heritage Senator Pervez Rashid at the Chinese cultural show organized by China Cultural Centre in Pakistan and Pakistan National Council of the Arts at PNCA Auditorium, Islamabad.
The Minister appreciated the performance of Chinese and Pakistani artists and said cultural interaction and exchanges between the two countries will be increased to educate the people of both the countries about each other's art, tradition and folk life.
Artists of the Hunan art ensemble and National Performing Art Group presented Chinese and Pakistani traditional music and dances.
The show opened with item from Hunan Province " Lets sing and dance" followed by scenery of the Dong Ting Lake popular for good agriculture product. Pakistani Balti dance was very much appreciated for its color full presentation, fast movements and beautiful music.
Opera episode based on Chinese novel reflected stage fighting and singing received applause from the audience for its best presentations. The Chinese artists presented popular Pakistani geet "Main Bhe Pakistan Hon, Tu Bhe  Pakistan Hay".
Pakistani artists also performed on Chinese music. Chinese traditional puppet show and popular song Horse racing were part of the show. The show ended with a tribute to the all-weather friendship between Pakistani and Chinese people by the Chinese artists.  =DNA