Chinese ambassador Sun Weidong speaks in Karachi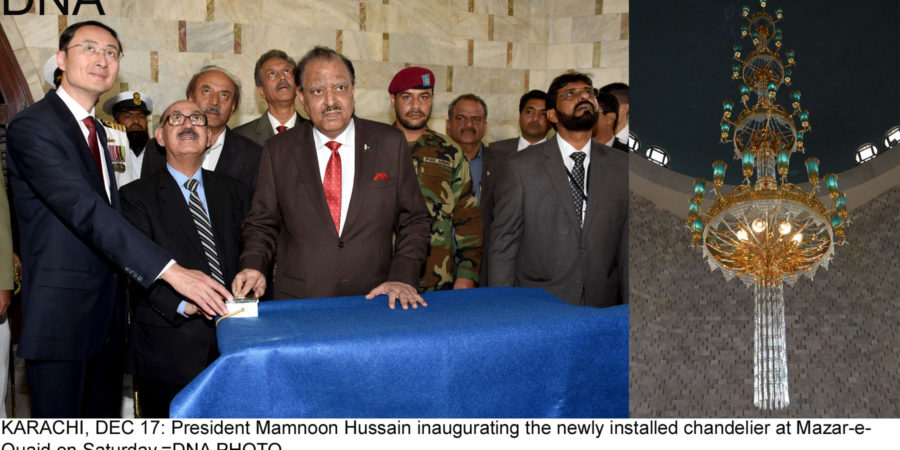 ISLAMABAD, DEC 17 (DNA) – Chinese ambassador Sun Weidong while speaking in Karachi said, " It is a great pleasure to be here to attend this inauguration ceremony of the new chandelier presented by China at Mazar-e-Quaid.
We feel much honored and grateful that President Mamnoon Hussain could grace the event today.
First of all, please allow me to read a congratulatory message from Xi Jinping, President of the People's Republic of China on 16th December, 2016, to Mamnoon Hussain, President of the Islamic Republic of Pakistan.
Quote:"Honorable Mr. President,
I am delighted to hear that the China aided chandelier maintenance project at Mazar-e-Quaid has been successfully completed, and a grand inauguration ceremony of the new chandelier will be held. On behalf of the Chinese government and Chinese people, and in my own name, I would like to extend warm congratulations to you and through you, to the Pakistani government and people.
46 years ago, the Chinese government presented the crystal chandelier as a national gift to your government, which became an often-quoted memory of friendly exchanges between China and Pakistan. Now, the maintenance of the chandelier has been completed smoothly. It will become an important symbol of the friendship for generations between our two countries and our peoples.
China-Pakistan friendship serves the fundamental interests of our two countries and our people, and contributes to peace and development of our region and the world at large. I attach high importance to China-Pakistan relations, and would like to join hands with you to promote greater development of China-Pakistan all-weather strategic cooperative partnership.
May China-Pakistan friendship pass on from generation to generation and retain its full vitality forever.Xi Jinping            President of the People's Republic of China"Unquote.
The warm and encouraging message from President Xi Jinping bears the great importance attached by Chinese leadership to the China-Pakistan relations. It also speaks aloud for our time-honored friendship. This friendship is deeply rooted in our people's hearts, passing on from generation to generation. It has set a model for countries to pursue peaceful co-existence and win-win cooperation. This friendship is a precious treasure that we must cherish forever.
Today, a more fruitful and resilient China-Pakistan relationship is just on the horizon. This year marks the 65th anniversary of China-Pakistan diplomatic ties. The completion and inauguration of the Grand Chandelier brings the commemorative activities to a new height. The China-Pakistan Economic Corridor is building a more amicable bond between our two brotherly countries. Our friendly cooperation is ushering in its golden era for greater development. China-Pakistan friendship is transcending bilateral relations and enjoying greater regional and global significance.
The Grand Chandelier has witnessed the history of China-Pakistan friendship. It represents the high respect to Quaid-e-Azam Muhammad Ali Jinnah by the Chinese people. It is a symbol of our sincere friendship passing on from generation to generation. It is a precious gift by the Chinese government and people to the Pakistani people. I am fully convinced that, under the guidance of our leaders, and with the firm support of our people, we can strive together towards a China-Pakistan Community of Shared Destiny!,DNA
============