Change of Command ceremony for General Qamar Bajwa underway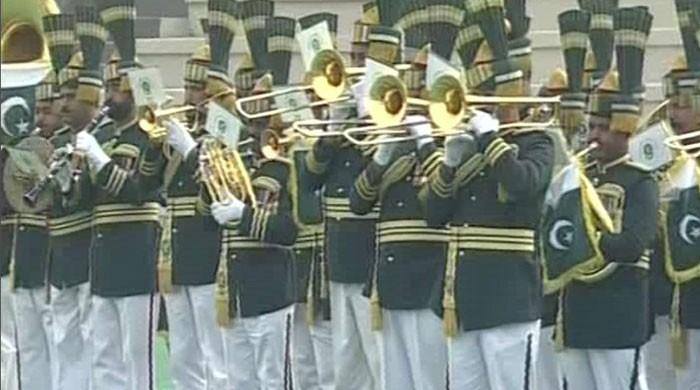 ISLAMABAD, NOV 29, (DNA) -The Change of Command ceremony where Army Chief-designate Gen Qamar Javed Bajwa will officially take charge as the new COAS kicked off at Army Hockey Stadium near General Headquarters (GHQ) in Rawalpindi today..
During the ceremony the outgoing COAS General Raheel Sharif will hand over the 'command stick' to General Qamar Bajwa.
Former army chiefs and senior military officials are present at the Change of Command ceremony. Federal ministers, members of the Parliament and foreign diplomats are also in attendance.
Gen Qamar Bajwa, Gen Raheel Sharif visit Yadgar-e-Shuhada
Earlier today prior to the ceremony, Army Chief-designate Gen Qamar Bajwa and COAS Gen Raheel Sharif arrived at Yadgar-e-Shuhada GHQ where they laid floral wreaths and offered Fatiha over the graves of the martyred.
Gen Raheel Sharif's farewell meeting with PM, President
Earlier, Chief of Army Staff (COAS) General Raheel Sharif met Prime Minister and President in his farewell meeting, visited ISPR headquarter and also chaired his last Corps Commanders Conference at GHQ on Sunday.
The conference was attended by General Qamar Javed Bajwa, Corps Commanders and Principal Staff Officers
During the meeting, the Corps Commanders paid rich tributes to General Raheel Sharif for his leadership and professional acumen and lauded his services for the country.
General Raheel congratulated the Chief of Army Staff designate for his elevation to the rank of General and appointment as COAS.
General Raheel Sharif said it was a matter of great pride for him to have commanded the most battle-hardened Army in the world for three years. He appreciated the corps commanders for their cooperation during his tenure and said the successes achieved during his tenure would not have been possible without contribution by each one of them.=DNA
=================