Change in Kashmir strategy urged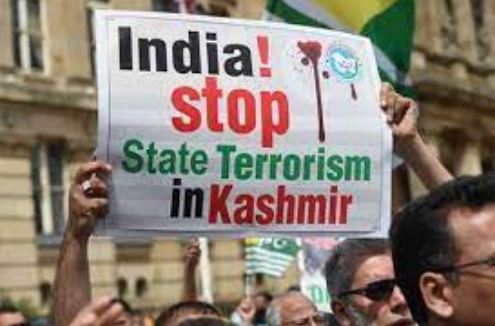 DNA
Islamabad: Experts at a roundtable discussion at the Institute of Regional Studies on the role of leadership in freedom struggle stressed the need to revisit Kashmir strategy in the light of changing dynamics in the Indian Illegal Occupied Jammu and Kashmir (IIOJK). They also urged to bring clarity and the consistency in the Kashmir policies which they argued had caused a lot of confusion among the people especially the youth.
Speaking at the occasion, Mr. Ghulam Muhammad Safi, a leader of All Parties Hurriyat Conference (APHC) said that the political leaderships in Kashmir were united under the banner of Hurriyat Party, and no differences of opinion existed between them on the resolution of Kashmir dispute, he added. While highlighting the role of Syed Ali Shah Geelani, Mr. Safi said that Geelani was the embodiment of Islam, Pakistan and the Kashmir. His legacy would remain unparalleled and his commitment to the cause of Kashmir freedom movement would remain a beacon of hope for all the Kashmiris, he further said.
Dr Arshi Saleem Hashmi, Professor at NDU said that currently there existed parallel leaderships in the Kashmir. There was a traditional leadership that stressed on the self-determination, the religious leadership inspired by the Pan-Islamism, and a political leadership that sought political autonomy in the IIOJK, she explained. She argued that such variations at the core had provided India an opportunity to exploit, and so far, New Delhi had been successful in putting a serious dent on the unity among the several groups involved in the freedom struggle, she emphasized. On a concluding note, Dr. Hashmi said that Pakistan should continue its policy of highlighting the human rights sufferings in the IIOJK both at the regional and international forums.
While presenting a detailed historical overview of the Kashmiri leaderships and their struggle of freedom, Ms. Maryam Mastoor, Research Analyst at IRS, argued that the people of Kashmir were very much clear about their destiny. She added that there was no dearth of leadership in Jammu and Kashmir as it was evident from the history that in the testing times several ordinary people of Kashmir had turned into revolutionary leader. The session moderator, Ms. Humera Iqbal, Research Analyst at IRS, said that the last 75 years of freedom struggle in Jammu Kashmir was full of valiant and towering personalities like Syed Ali Shah Geelani along with resistance leaders like Yasin Malik and several other unknown figures who had created history by giving their lives to the cause of self-determination. While concluding the session, Ambassador Nadeem Riyaz, President IRS said that there was a need for great awareness about the Kashmir issue among the youth as they were ignorant of some basic historical facts. He added that the issue of Kashmir remained an international issue and its resolution lied in the implementation of the UN Security Council resolutions.