Chakwal Chamber of Commerce to support UBG in FPCCI elections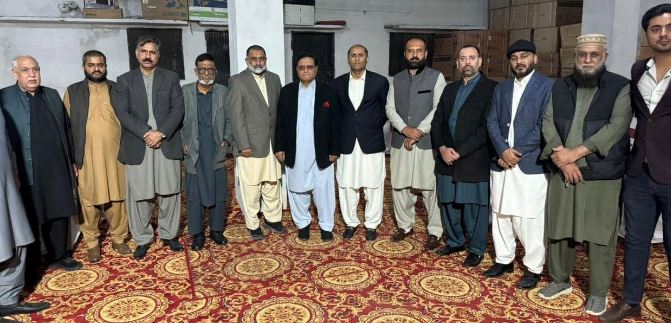 CHAKWAL, NOV 19 /DNA/ – President, Chakwal Chamber of Commerce Industry and candidate for the upcoming Executive Committee of FPCCI, Waqar Zafar Bakhtawari has said that the business community of Chakwal is united under the leadership of UBG Patron-in-Chief S.M. Tanveer and hoped that the UBG will achieve a landslide victory in the upcoming elections of FPCCI and will also play a key role in bringing the country out of the current economic crisis. He said this while addressing a dinner hosted by Chakwal Chamber of Commerce and Industry Convener Khawaja Arif in honor of UBG Pakistan Secretary General Zafar Bakhtawari. FPCCI General Body Member Khurram Kamran, Haji Sultan Shahzad, Saadat Malik, Ghulam Murtaza, Hafeez Anjum and a large number of members of the Chakwal Chamber of Commerce attended the dinner.
Waqar Bakhtawari said that the vote of Chakwal Chamber of Commerce is the trust of UBG and we can never forget the love and affection of SM Munir (Late). Our relationship with UBG will continue to grow further.
FPCCI General Body Member Khurram Kamran said that Chakwal Chamber of Commerce has always been associated with UBG since its inception and the role of Zafar Bakhtawri and Qazi Akbar is very important in this regard.
FPCCI Vice President Qazi Mohammad Akbar said that the current leadership of FPCCI is largely responsible for the country's economic crisis, as they have failed to better protect the interests of the country's business community. He vowed that the UBG will improve the country's economy by winning the next election of FPCCI.
Zafar Bakhtawari, Secretary General UBG Pakistan said that after the establishment of Chakwal Chamber, the economic activities in this region have got a better boost. He said that Chakwal Chamber of Commerce is trying to establish a new industrial estate at Neela Dulla Interchange and the completion of this project will usher in a new era of development and prosperity in the region.