Caretaker cabinet sworn in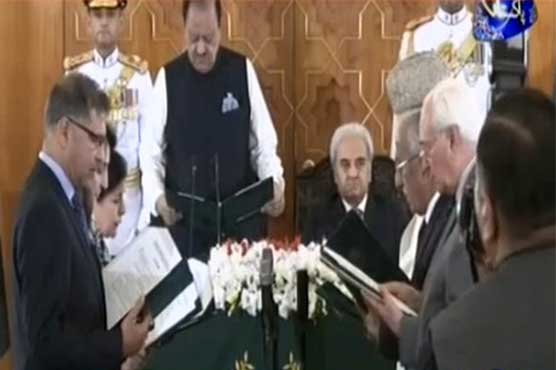 ISLAMABAD, JUN 05 (DNA) – President of Pakistan on Tuesday administered oath to members of  caretaker cabinet at ceremony at the President House.
The six member cabinet has been sworn in days after the second  democratically elected government completed its five-year constitutional term .
According to details, President Mamnoon Hussain administered oath to the members of the cabinet that also include two females at President House.
Ali Zafar will be Law Minister, Shamshad Akhtar will control Finance Ministry while Abdullah Hussain has become Foreign Minsiter.
Caretaker PM Nasir-ul-Mulk was also present on the occasion.
Earlier on May 31, National Assembly stood dissolved at 12:00midnight after completing its five-year constitutional ter afterwhich, former Chief Justice of Pakistan (CJP) Justice (retd) Nasir ul Mulk sworn in as caretaker PM of Pakistan.
Informally talking to media, Nasir-ul-Mulk said that the general polls will be conducted on time at any cost. He also announced to minimize the membership of cabinet.