Business leaders demand 10-Year Economic Policy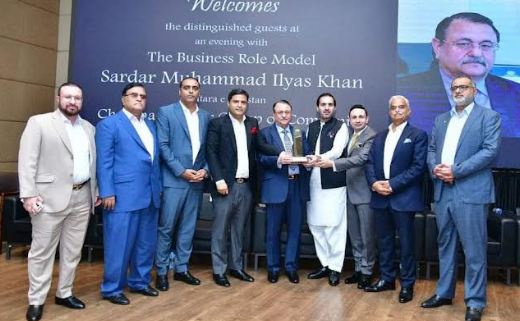 ISLAMABAD, AUG 18 /DNA/ – Sardar Muhammad Ilyas Khan, Chairman, Sardar Group of Companies and owner of Centaurus Mall Islamabad, said that continuity of economic policies is key for the development of business and investment in any country as it gives confidence to investors and enables business community to make future business plans for expansion, so he demanded that the government should announce at least a 10-year economic policy to promote business and investment activities in Pakistan, which should not be disturbed with the change of a government. He said this while addressing a ceremony organized by the Islamabad Chamber of Commerce in his honour to present him as a role model for youth. All the important members of the Sardar family, representatives of market associations, university teachers & students and a large number of the business community attended the ceremony.
Sardar Muhammad Ilyas Khan said that Turkish President Tayyip Erdoğan provided free electricity to SMEs for 3 years and issued diplomatic passports to the exporters who made exports of 10 billion, which showed his business-friendly approach. If the business class in Pakistan is given importance in the same manner, the country can soon get off its debt burden and stand on its own feet while the economy can achieve sustainable growth. He said that the LCs issue, high electricity tariff and high interest rate of 22% are the major obstacles in the way of business and investment in Pakistan, so these issues should be addressed soon. He said that doing business in Pakistan in the current circumstances is a jihad, so the government should promote ease of doing business and provide one window facility to investors. He shared his life achievements with the audience and stressed that the youth should work hard with dedication and honesty to excel in life instead of looking for shortcuts.
Ahsan Zafar Bakhtawari, President, Islamabad Chamber of Commerce and Industry, paid rich tribute to Sardar Muhammad Ilyas Khan for his key role in the Pakistan's economy and welfare services. He said that Sardar Muhammad Ilyas Khan was conferred with Sitara-e-Pakistan award by the government, but heroes like him need to be conferred with more honours. He said that Sardar Muhammad Ilyas Khan brought billions of rupees from abroad to invest in Pakistan, which shows his love for the country. He set a new trend by building the Centaurus Mall, which is the icon of Pakistan. He also provided jobs to thousands of Pakistanis in Saudi Arabia who are now sending remittances worth billions of rupees to Pakistan. He urged the youth to take investors like Sardar Muhammad Ilyas Khan as their role model and get full benefit of his experiences to advance in the field of business.
Mirza Muhammad Afridi, Deputy Chairman Senate, said that Sardar Group of Companies is currently playing an important role in the economy of Pakistan, which is commendable. He said that the proposals presented by the business community for the improvement of business and investment in today's event will be conveyed to the relevant authorities of the government for their consideration and implementation.
Faad Waheed, Senior Vice President ICCI, lauded the services of Chairman Sardar Group for promoting businesses and creating jobs in Pakistan and added that such role models should be recognized at the government level that will help attract more FDI.
ICCI Group Leader Khalid Iqbal Malik also paid tribute to Sardar Group's valuable services to the country and demanded that the government formulate all economic policies in consultation with the business community, which would promote industry, trade and investment in the country.
Zafar Bakhtawari, Former President ICCI and Secretary General UBG said that ICCI has organized a ceremony to promote Sardar Muhammad Ilyas Khan as a role model and ICCI would organize more such events to recognize the contribution of eminent businessmen of Pakistan to the economy.