Brotherly countries helping Pakistan to get IMF programme, says PM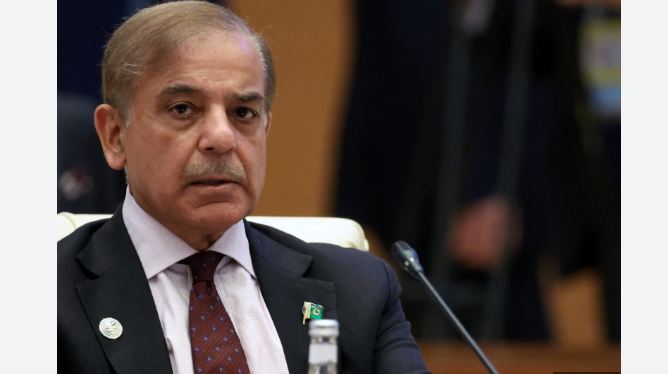 ISLAMABAD, APR 03 (DNA) — While chairing the parliamentary party meeting of Pakistan Muslim League-Nawaz (PML-N) in Islamabad on Monday, Prime Minister Shehbaz Sharif said, "We have always brought the country out of difficult circumstances. [Currently] the situation is tough, but our intention is clear. God willing! It will improve. The time will come, and things will change. That's my belief."
"The International Monetary Fund (IMF) has tied the hands and feet of the federal government. All the preconditions of the IMF have been accepted," he said. "Due to the IMF programme of the previous government, waves of inflation are coming. Negotiations on the IMF's final condition are ongoing. Brotherly countries are helping Pakistan a lot," he added.
"The government has started providing free flour to Rs100 million poor families. It is providing free flour to the poor people in Punjab, Khyber Pakhtunkhwa (KP) and Islamabad during Ramazan," he stated.
"Under the leadership of Prime Minister Nawaz Sharif from 2014 to 2018, Pakistan was on the road to development. The country faced devastating floods. A total of Rs100 billion have been given to the flood-hit people by the federal government only," he averred.
"Imran Khan trapped Pakistan in economic quagmire. The previous rulers used bad language against the friendly countries. Serious allegations were levelled against the Chinese projects," the prime minister deplored.
"Imran and his followers said that 45 per cent corruption took place in the Chinese projects. China invested $30 billion in Pakistan, and frivolous allegations were levelled against the friendly country," he lambasted.
"The lies being spread about starting trade with Israel are reprehensible. What is the connection between an individual person and the policy of the Government of Pakistan? Pakistan will stick to its principled position until the Palestinians get their rights," he declared.
"Imran Khan put Pakistan in trouble. He put the reputation of the country at stake. He signed the IMF programme on the strictest terms, and he then suspended the programme by violating its terms and conditions. He conspired to fail the IMF programme; his ministers had been caught red-handed conspiring against the IMF programme," he castigated.
"During the tenure of Imran Khan, judges received threats, and references were filed in courts," he added. The prime minister also paid tribute to the commitment and loyalty of the party members. "We sacrificed politics to save the state. All is well if Pakistan is saved. We are all at loss if Pakistan is weakened," he pointed out.
"God willing, times will change. The PML-N, under the leadership of Nawaz Sharif, will get the country out of its problems," he vowed. Political stability is necessary for economic betterment. One who caused political instability is getting relief from courts day and night. The courts' attitude towards our leadership and members was different," he regretted.
"If Imran Khan's wife was not a public representative and government official, what position did Maryam Nawaz Sharif hold? This is the imbalance between the plates of scale," he pointed out. "Pakistan today is actually passing through the most critical moment of the history. We all must fight fascism together.
Your sacrifices will not go in vain. I pray that in my lifetime, the country comes out of the economic stagnation or at least improve to a great extent," he reiterated the vow. The PML-N MNAs participated in the meeting. Matters relating to the current political situation of the country had been deliberated upon. The prime minister also discussed the Supreme Court case with the party leaders. — DNA