British royal couple completes Lahore tour, departs for Islamabad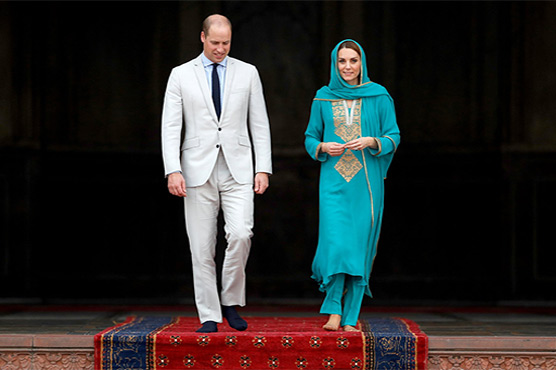 LAHORE (DNA) – The British royal couple have departed for Islamabad after completing their visit to Lahore. During the visit Prince William and Prince Kate Middleton visited SOS Village, Shaukat Khanum Hospital, Badshahi Mosque, Shahi Fort and other places.
A resolution welcoming the British royal couple, Prince William and Kate Middleton, has also been submitted in the Punjab Assembly.
Pakistan Muslim League-Nawaz (PML-N) provincial assembly member Rahat Afza submitted the resolution which welcomed the arrival of the Dutch and Duchess of Cambridge.
According to the text of the resolution, Princess Kate Middleton promoted Pakistani culture by wearing a Pakistani dress. The royal couple traveling in Rickshaw has conveyed to the world that Pakistan is a peaceful country. The steps of the royal couple won the hearts of Pakistanis, read the text.
Earlier, the royal guests were warmly received by Punjab Chief Minister Usman Buzdar and Governor Chaudhry Sarwar at the Allama Iqbal International Airport. The guests were presented souvenirs by the government officials.
The Duke and Duchess of Cambridge, Prince William and Kate Middleton, visited the National Cricket Academy (NCA) and played cricket with Pakistan players and local kids participating in the British Council's Dosti programme.
The Duke and Duchess of Cambridge, Prince William and Kate Middleton, on the fourth day of their first royal tour of Pakistan, visited Lahore's historic Badshahi Mosque before a trip to a cancer hospital that his mother, Princess Diana, visited a year before her death.
The British royal couple also visited Shaukat Khanum Memorial Cancer Hospital and Research Centre in Lahore where they inquired about the health of patients.