Brazil keen to diversify relations with Pakistan: envoy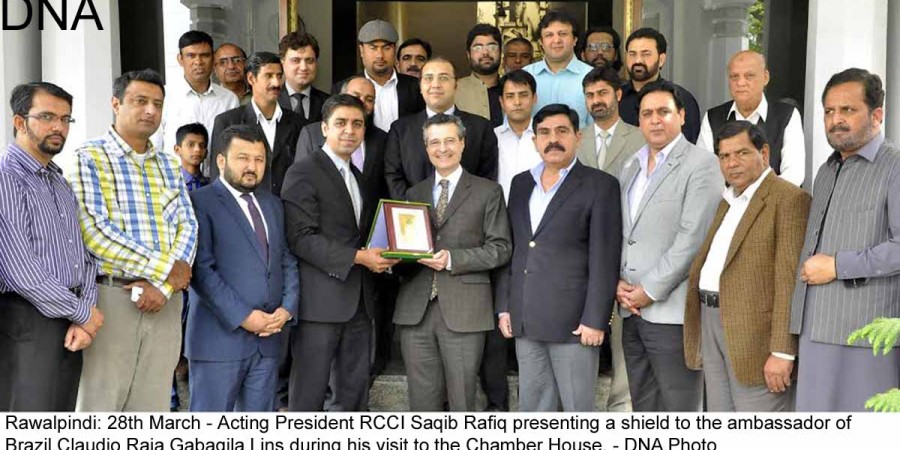 RAWALPINDI, MAR 28 (DNA) -The ambassador of Brazil Claudio Raja Gabaglia Lins has said that Brazil is the most prominent trade partner of Pakistan in Latin America and his country is keen to enhance trade relations with Pakistan.
 Brazil economy has been ranked second largest economy in Latin America. More than 30% of exports are being carried out in Agriculture and livestock sector. Brazil has improved its per hector yield through double cropping, corn after soybean. Poultry meat has a huge potential and Pakistani exporters can take benefit from Brazilian expertise in this sector. Brazil covers more than 42% of its energy need through renewable energy.
 We are ready to help Pakistan to meet its energy need via renewable energy resources, like wind, solar and coal. The current trade volume between the two countries falls around 300 million dollar which is very low. Brazil's major imports from Pakistan are sports items, surgical tools, cotton, polymer and paper.
 He was exchanging these views with Acting President Rawalpindi Chamber Saqib Rafiq during his visit to the RCCI here on Monday. Former president Dr. Hasan Sarosh Akram, Vice President Muhammad Aqil Obaid, Secretary General Irfan Manan, member executive committee and other member of the Chamber were also present on the occasion.
 Speaking on the occasion the Acting President RCCI Saqib Rafiq has underscored the need to translate the existing goodwill in building solid trade and commercial ties between the two countries.
 He suggested that Brazilian expertise in information technology, dairy farming, livestock and renewable energy and infrastructure sectors is much needed in Pakistan. There is a need to explore non conventional sectors like gem and jewelry, marble, information technology and pharmaceutical, he added.
 The Acting president advised the envoy to focus on increasing Pakistan's exports to Brazil and attracting Brazilian investment for joint ventures. To take the benefit out of the existing opportunities, exchange of Delegation is important, he added.
 Single country Exhibitions can be a great source of introducing products in each other's Market, he said. He said that a Brazilian Information Desk is required here in Chamber where members can get informational catalogues and brochures.
 He invited envoy to bring Brazilian Companies representatives in the upcoming international trade and expo conference being organized by RCCI in August this year. A short presentation on RCCI current and upcoming events were also shown to the envoy.=DNA
================