Brazil ready to help Pakistan in energy, agriculture sectors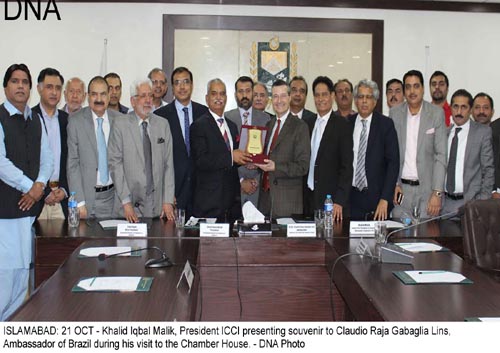 ISLAMABAD, 21 OCT (DNA) – Claudio Raja Gabaglia Lins, Ambassador of Brazil said that his country was 7th largest economy of the world and second largest in Latin America and Pakistan could achieve beneficial results for its economy by enhancing cooperation with Brazil.
He said Brazil was meeting 42 percent of its energy needs through renewable resources and was ready to help Pakistan in generating energy through wind, solar, ethanol, biomass and other sources.
He said Brazil has achieved robust growth in agriculture & livestock sectors and Pakistan could improve its agriculture productivity by increasing cooperation with Brazil in this field. He expressed these views while addressing a large gathering of business community at Islamabad Chamber of Commerce and Industry.
He said many Pakistani products have excellent potential in Brazilian market and Pakistani businessmen should step up efforts to promote trade with Brazil. He said promoting direct contacts between the private sectors of both countries was the best approach to explore all untapped areas of potential cooperation and assured that his Embassy would extend all possible support to Pakistani business community in their pursuits to explore business opportunities in Brazil.
In his welcome address, Khalid Iqbal Malik, President, Islamabad Chamber of Commerce and Industry said that Brazil's total trade with world in 2015 was $369 billion with exports $ 191 billion, but its bilateral trade with Pakistan was just around $ 300 million, which was not in commensurate with the real potential of both countries.
He said the main reason of low volume of two-way trade was that both countries were doing trade in limited items and they should focus on diversification of trade to achieve better results. He said many Pakistani products including pharmaceuticals, chemicals, sports goods, agro products like basmati rice, pulses, fruits and vegetables could find good market in Brazil and embassy should play role in highlighting their potential to Brazilian customers.
He identified poultry meat, agriculture machinery, orange juice, tea, spices, coffee, auto parts, leather goods, granites, electrical appliances and handicrafts as other potential areas of mutual cooperation between the two countries.
He stressed that both countries should encourage frequent exchange of trade delegations and organizing single country exhibitions to promote bilateral trade and economic relations up to real potential.
He also briefed the Ambassador about investment opportunities in various sectors of Pakistan's economy and urged that Brazilian investors should be persuaded to visit Pakistan for exploring business and investment opportunities in CPEC and other sectors of their interest.  =DNA