Ayesha Gulalai's allegations should be investigated: PM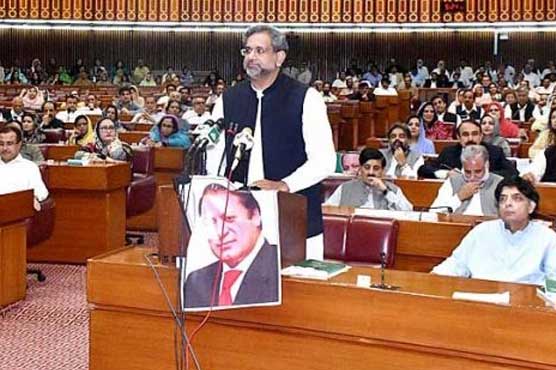 ISLAMABAD, AUG 04 (DNA) – MNA Ayesha Gulalai's allegations against Pakistan Tehreek-e-Insaf (PTI) Chairman Imran Khan echoed in the National Assembly today when newly-elected Prime Minister Shahid Khaqan Abbasi said the matter should be investigated.
Intervening in the debate on the issue in the house on Friday, he has proposed establishment of a Special Committee of the National Assembly to probe allegations levelled by Ayesha Gulalai against PTI leader Imran Khan. He said the proceedings of the special committee should be held in-camera.
The Prime Minister further said one member of the Assembly has levelled allegations against another and it would be appropriate to handle it at the level of the house.
Shahid Khaqan Abbasi said it is question of honour and dignity of the house and we have to enhance its prestige. He said investigations by the special committee would allow both sides to defend themselves.
He also ordered to Inspector General of Islamabad Police to provide security to Ayesha Gulalai.
Meanwhile, MNA Shagufta Jamani demanded formation of a joint investigationt team (JIT) to probe the matter.