ATC sends Dr Asim to jail in case relating to harbouring terrorists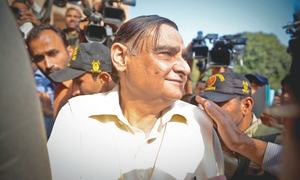 KARACHI: Pakistan Peoples Party leader and close aide of former president Asif Ali Zardari, Dr Asim Hussain, was produced in an antiterrorism court (ATC-II) Tuesday where he was sent on a judicial remand after having been released by police on Dec 11.Adjourning the matter till Dec 30, the court also ordered that copies of all prosecution documents, including statements of witnesses, be handed over to Dr Hussain in compliance with Section 265-C of the Criminal Procedure Code.
But Dr Hussain, who was arrested by the National Accountability Bureau (NAB) on Dec 11, is on physical remand with the anti-graft body till Dec 23 (tomorrow) and will remain in NAB custody till he is presented in an accountability court.
NAB has reportedly launched investigations into references against Dr Hussain for illegal affiliation of colleges with the Pakistan Medical and Dental Council, issuance of licences for dozens of CNG stations and other corrupt practices.