At least 52 dead, several injured as 'suicide blast' jolts Balochistan's Mastung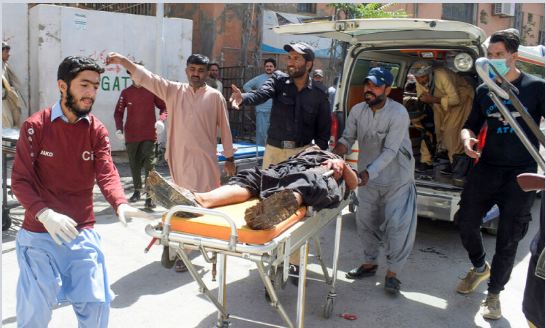 The attack took place near an Eid Milad-un-Nabi (P.B.U.H) procession
MASTUNG, Sept 29: At least 52 people, including a police officer, lost their lives and several got injured in a massive "suicide attack" in Balochistan's Mastung area on Friday, health officials and police told.
The police cordoned off the area after the explosion.
The deceased and injured were shifted to nearby hospitals. An emergency has been imposed in the hospitals.
Some injured are also being shifted to Quetta hospitals.
The explosion took place near an Eid Milad-un-Nabi (P.B.U.H) procession.
Mastung Deputy Superintendent of Police (DSP) Nawaz Gashkori is also among the dead.
No group has claimed responsibility for the blast so far, which comes amid a surge in attacks claimed by militant groups in the west of the country, raising the stakes for security forces ahead of national elections scheduled for January next year.
"The bomber detonated himself near the vehicle of the Deputy Superintendent of Police," Deputy Inspector General of Police Munir Ahmed told Reuters, adding that blast took place near a mosque where people were gathering for a Eid Milad-un-Nabi (P.B.U.H) procession.
President Dr Arif Alvi and Prime Minister Anwaar-ul-Haq Kakar strongly denounced the explosion in Mastung, state-run Radio Pakistan reported.
In their separate statements, they expressed deep grief and sorrow over the death of people in the incident, and also commiserated with the bereaved families.
They directed the authorities concerned to provide best possible medical treatment to the injured.
In his remarks, Prime Minister Anwaar-ul-Haq Kakar said the government is "determined to root out terrorism from the country".
Caretaker Interior Minister Senator Sarfraz Bugti condemned the "heinous attack" in Mastung.
"Attacking innocent people during the Eid Milad-un-Nabi procession is a terrible act. We'll use all resources for rescue and relief operations, ensuring best medical care for the injured. We're committed to a zero-tolerance policy against terrorists," he said.
Caretaker Information Minister Jan Achakzai also condemned the attack, saying all LEAs, PDMA force and ambulances had reached the scene.
"Martyrs numbers are rising unfortunately. Emergency imposed in Quetta Hospitals," he wrote on his X (formerly Twitter) handle.
Achakzai said his will give the latest update on the incident in a press conference at 3:10pm.
He announced a three-day mourning period across the province in light of today's tragic incident in Mastung, and to express solidarity with the affected families.
National flags will fly at half-mast on government buildings for next three days, the minister informed.
He also made an appeal for blood donations for the injured ones.