At least 30 passengers killed, several injured in Ghotki train accident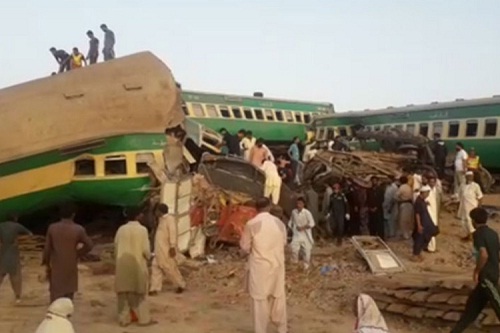 GHOTKI : At least 30 people lost their lives and several sustained injuries as Sir Syed Express train collided with a Millat Express between Reti and Daharki railway stations in Ghotki.
According to the railways' officials, the accident occurred when a Sargodha-bound Sir Syed Express collided with a Millat Express that was already present at the track after the derailment, said sources.
As many as 14 boogies of both the trains were damaged out of which four were completely destroyed.
DC Ghotki, Usman Abdullah confirmed the death of at least 30 passengers and added that several people are still trapped in the boogies of both trains. Getting the information about the incident, the police and rescue teams reached the spot for the rescue and relief operation.
DC Usman Abdullah said heavy machinery and cutters are required for the operation. Following the major train accident, up and down railway traffic has been suspended.
Meanwhile, troops of Pakistan Rangers Sindh have also reached the spot to assist the civil administration in the operation. The bodies are being shifted to nearby hospitals.
In a separate major train accident last year, as many as 19 people were killed and more than 30 were wounded when the Pakistan Express train collided with a passenger bus at a railway crossing near Rohri railway station.
The spokesperson of Pakistan Railways had said the incident was apparently happened due to negligence of the bus driver.