ASWJ general secretary , top Shia cleric detained in Karachi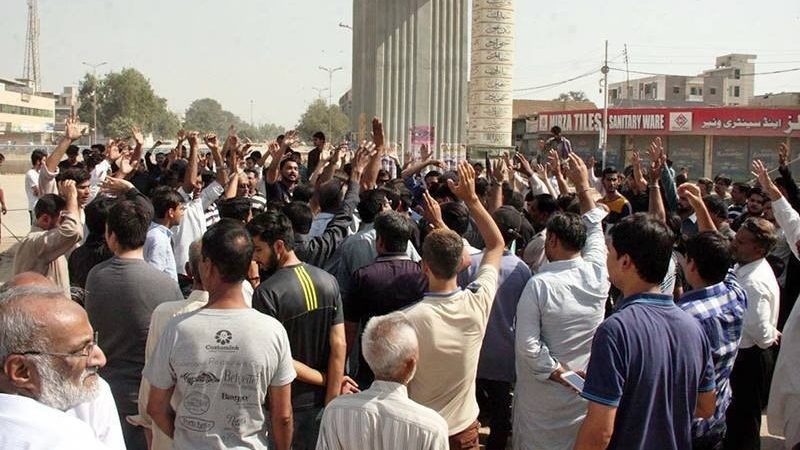 Secretary general of the proscribed Ahle Sunnat Wal Jamaat (ASWJ) Taj Hanafi and All Pakistan Shia Action Committee Chief Allama Mirza Yusuf Husain were detained in Karachi, officials said Sunday.
According to the Rangers, Hanafi was arrested from Karachi's Nagan Chowrangi area on Sunday afternoon.
An ASWJ spokesman also confirmed that Hanafi, who was to contest the Nov 24 NA-298 by-polls, had been arrested.
All Pakistan Shia Action Committee chief Allama Mirza Yusuf Husain was apprehended from his residence in Karachi by police late Saturday night, a Majlis Wahdat-e-Muslimeen (MWM) spokesperson told Dawn.
Husain's residence is attached to Jamia Masjid Noor-i-Iman in Nazimabad where he is a prayer leader, he said.
MWM leader Ahmed Iqbal Rizvi in a statement, while condemning Husain's detention, said that "killings of the mourners and detentions of Shia leaders were a conspiracy to foil Karachi operation."
A police spokesperson said that several people were detained during 'combing and search operations' in different parts of the city.
Residents blocked roads in Karachi protesting the alleged insult of religious texts during a search operation in a mosque in Rizvia Society. The allegations surfaced after photographs showing the aftermath of the search operation were shared widely across social media.
A Rangers press release, however, denied any such incident took place during a search operation.
"The Pakistan Rangers term photos being shared on social media by miscreants contrary to the facts," the press release said. "The purpose of such photos is to hinder the operation."
"After receiving information about the presence of miscreants, the Rangers paid due respect to the sanctity of the mosque, imambargah and madressah during their search operation."
Police also registered another case pertaining to possession of illegal arms against ex-PPP Senator Faisal Raza Abidi, a senior police officer said on Sunday. Abidi was arrested on Saturday from his residence in Karachi.
gs'
Jamshed Quarters SP Tahir Noorani said Abidi was taken into custody in connection with the killing of two men who belonged to the Tableeghi Jamaat in Patel Para area of the metropolis a day earlier.
"We have arrested Faisal Abidi for his alleged involvement in the double murder case," said SP Jamshed Quarters Tahir Noorani.
But in the evening, a top-ranking police officer said that Abidi was "detained" and being investigated in some previous cases of sectarian killings. "He will be released if found innocent," he said, asking not to be named.
Around five weapons were recovered during a raid on Abidi's New Rizvia Society late Friday night, a senior police officer said today. Out of them, one submachine gun was without a license.
Therefore, the police have registered a case against him under Sindh Arms Act on behalf of the state.