American Ambassador David Hale unveils new contemporary art collection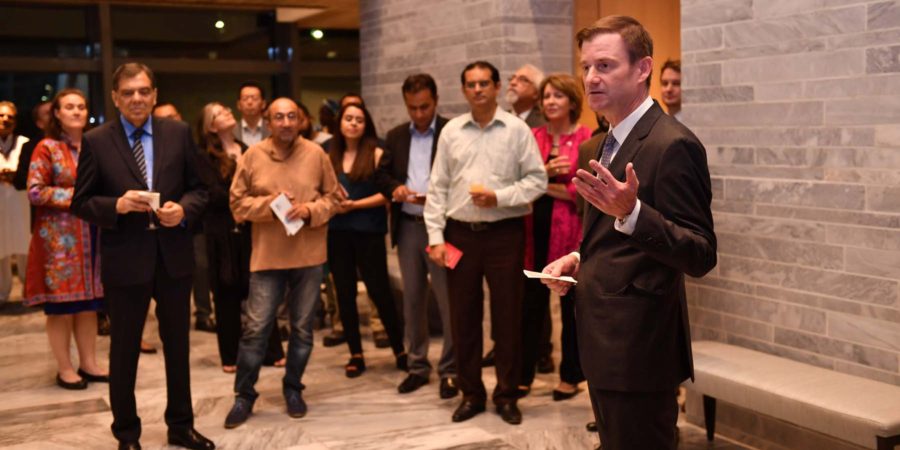 ISLAMABAD, SEPT 30 (DNA) – – American Ambassador David Hale unveiled a new collection of contemporary art at his official residence during a reception last night.  Approximately 80 artists, students, teachers, and other friends of the arts gathered to view the works by artists such as Imran Qureshi, Murad Mumtaz, Javier Romero, Tom Bamberger, Sabah Husain, Adeela Suleman, and William O'Brien.
"Art reminds people to take a second look at the world around them, and look deeper than face values," said Ambassador Hale.  "Art transcends national borders and connects peoples.  This collection highlights some of the best of American and Pakistani creativity."
Renowned Lahore-based artist Imran Qureshi personally introduced his mixed-media art that is featured at Ambassador Hale's residence.
"For me, this project was extremely exciting," Qureshi said.  "Representation of Pakistani contemporary art in such an important place will definitely project a positive image of my country to the outer world."
Renowned musical artist, Arieb Azhar, performed Sufi and Pakistani folk songs to the delight of the guests to complete the evening.
Art gives form to our values and beliefs.  The American Embassy spends over 100 million rupees annually to fund arts programing in Pakistan, introducing Pakistanis and Americans to each other's artistic traditions. DNA