Ambassadors of European Union and Czech Republic present their Credentials to President Dr. Arif Alvi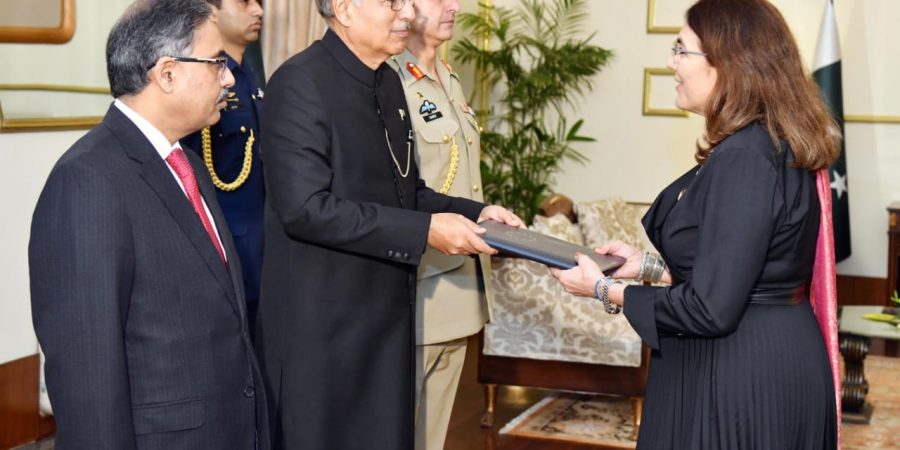 ISLAMABAD; November 07, 2019: Ambassadors-designate of European Union Ms. Androulla Kaminara and Czech Republic Mr. Tomas Smetanka presented their Credentials to President Dr. Arif Alvi in a credentials ceremony at the Aiwan-e-Sadr, Islamabad on Thursday.
The President felicitated the newly appointed Ambassadors to Pakistan and hoped that they would work for further strengthening the existing ties of European Union and Czech Republic with Pakistan.
Later, the Ambassadors separately called on the President. Speaking on the occasion, the President said that Pakistan was desirous of cordial relations with all friendly countries. He stressed that it was incumbent upon the international community to work for the alleviation of the misery that the people of Indian Occupied Jammu and Kashmir were suffering at the hands of the Indian fascist regime. He added that the world peace had been endangered by the reckless and provocative approach adopted by this regime.
Mrs Androulla Kaminara took up her duties as Ambassador Designate and Head of the Delegation of the European Union to Pakistan on 17 September 2019. Prior to her appointment, Mrs Kaminara was the Director for Africa, Asia, Latin America, Caribbean and Pacific in the Directorate-General for European Civil Protection and Humanitarian Aid Operations (DG ECHO) of the European Commission since July 2016. Mrs Kaminara was previously Principal Adviser and Head of the Task Force "Knowledge, Performance and Results" in the Directorate-General for International Cooperation and Development of the European Commission from 2014 to 2016. From 2012 to 2013, she was the European Union Fellow at the European Studies Centre of St. Antony's College, Oxford University, and from 2013 to 2014 the EU Academic Visitor at the same Centre, specialising in EU policies as well as in geopolitics of energy policy. Mrs Kaminara was the Head of the European Commission Representation to the Republic of Cyprus from 2008 to 2012.