Ambassador of Japan inaugurates SESWA Model School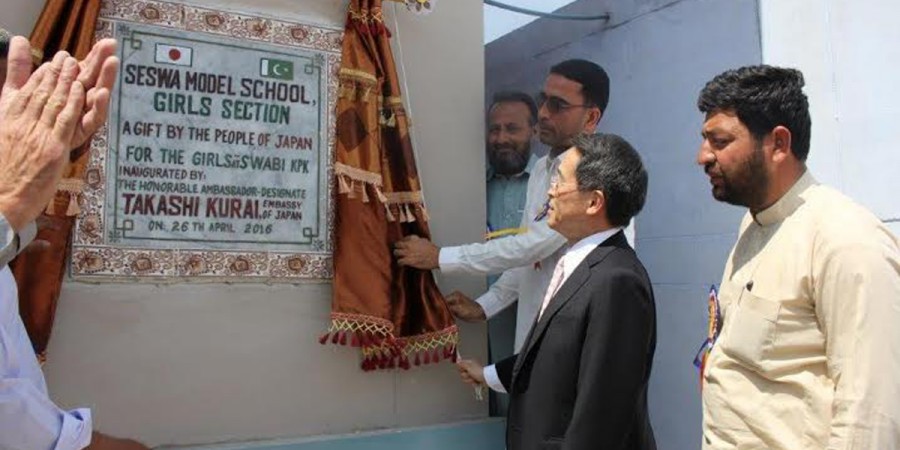 ISLAMABAD, 26 APR (DNA) – Takashi Kurai, newly appointed Ambassador of Japan to Pakistan, inaugurated SESWA Model School, a primary and middle level school for girls at Village Shewa in District Swabi (Khyber Pakhtunkhwa).
The school was built with the financial support of US$ 99,394 provided by the Government of Japan to the NGO Shewa Education Social Workers Association (SESWA) – a non-governmental organization actively working in the education sector.
The inauguration ceremony was attended by members of NGO, the staff of the school, education and health ministers of KPK and children from the vicinity who are expected to get admission in this school.
The construction of this school was made possible with the financial support from Embassy of Japan under its Grant Assistance for Grass-Roots Human Security Projects (GGP) Program.
The school, where 130 girls have already taken admission, is designed to accommodate approximately 300 girls for primary and middle school levels. This is a second grant SESWA has received from Government of Japan under the GGP Program.
Previously the organization was granted financial support of US$ 81,778 for the expansion of a primary and middle school in the same district in November 2010.
 By virtue of this current project, it is expected that new opportunities will be opened for girls in the area, which would eventually contribute to multifaceted socio-economic development.
At the inauguration ceremony, Ambassador Kurai stressed upon the importance of basic education for the development of nations and highlighted the critical need for creating opportunities for Pakistani girls.
 He also expressed his hope that this project would improve the welfare of girls in the area, and in addition would undoubtedly strengthen the existing friendly relations between the people of Japan and Pakistan. DNA