Ambassador highlights women role in Indonesian development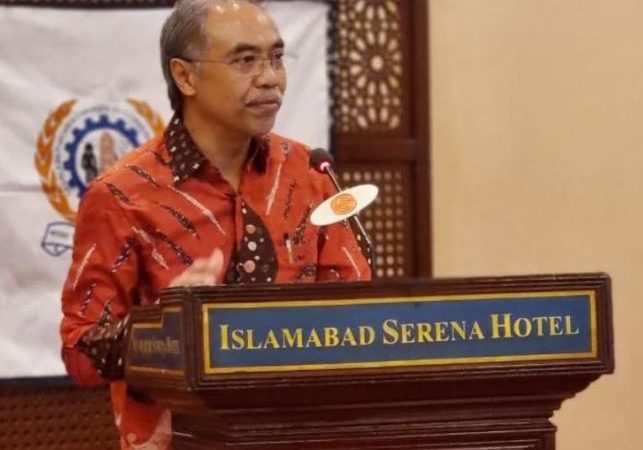 Developing connectivity between Indonesian and Pakistani women entrepreneurs was also highlighted
DNA
ISLAMABAD: Ambassador Adam Tugio participated in the International Conference on Pakistan Export Potentials-Women Led Business by Faisalabad Women Chamber of Commerce and Industry (FWCCI) at Islamabad Serena Hotel.
At the event, the Ambassador shared best practices on the role of women in Indonesia as the impetus of the Indonesian economy through MSMEs. They also contributed to creating jobs and improving the community's social welfare.
The Ambassador informed the participants that the number of MSMEs units in Indonesia was 64 million units in 2021 and contributed to a gross domestic product (GDP) of about 61.97 per cent. They covered wholesale and retail trade (46.17%), accommodation and food & beverages such as restaurants, cafes and catering (16.53%), as well as the processing industry of raw materials into semi-finished or finished products (16.53%). The percentage of women entrepreneurs in Indonesia is 21% and they have performed well in MSMEs.
Furthermore, MSMEs have high resilience that can support the country's economy during the pandemic. Lockdown policies, introduced by the government during COVID-19 have restricted the mobility of people. But there is always light in the end of tunnel. This situation has allowed MSMEs to know and embrace e-commerce and digital payment services. Ambassador Tugio underscored the important of digital literacy for women entrepreneurs and access to financial services.
Developing connectivity between Indonesian and Pakistani women entrepreneurs was also highlighted. Exchange visits, training, and capacity building were important to explore creative ideas for promoting women entrepreneurs. The Ambassador that his country was a gateway for $2.9 trillion economy of ASEAN region and Pakistan should tap it for trade and exports by developing close cooperation with Indonesia.
He said that China was enjoying a bilateral trade of around $ 600 billion with ASEAN, but Pakistan-ASEAN bilateral trade was less than 1%, which should be increased to achieve better results.
He stressed for promoting cooperation among women entrepreneurs of Pakistan, Indonesia and ASEAN region that would give boost to trade among these countries.
Ambassador Adam said that his embassy was planning to organize a dialogue on economy involving B2B and G2G meetings between the two countries besides holding an exhibition of the products of both countries to highlight their potential for bilateral trade.