Ali Muhammad Khan re-arrested for sixth time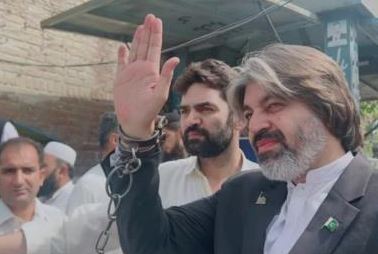 MARDAN, JUN 27 (DNA) — Pakistan Tehreek-e-Insaf (PTI) leader Ali Muhammad Khan has been re-arrested for the sixth time after being released from jail. The judge of an anti-corruption court approved the bail of PTI leader Ali Muhammad Khan today. The Anti-Corruption Establishment (ACE) arrested Khan again in another case.
Khan was immediately arrested by the ACE officials at the jail gate. A new corruption case was lodged against the PTI leader yesterday for alleged financial irregularities in development projects.
Former minister Muhammad Atif, Tufial Anjum and others were also nominated. Earlier in the month, an Anti-Terrorism Court (ATC) in Mardan acquitted the Pakistan Tehreek-e-Insaf leader in May 9 violence case.
Ali Muhammad Khan, who was rearrested by Mardan police, was presented before the court of ATC Judge Syed Ubaidullah Shah. Nadeem Shah advocate appeared before the court to represent the PTI leader. The court after hearing arguments in the case, discharged Khan from the case and ordered to release him, if he is not wanted in any other case.
Former state minister Ali Muhammad Khan was first arrested from Rawalpindi, then from Islamabad and last arrest was from Peshawar and was shifted to Mardan. Earlier, the Peshawar High Court (PHC) ordered to release the former PTI MNA who was arrested following May 9 attack on military installations. — DNA