After Punjab, summary also prepared to 'dissolve KP Assembly'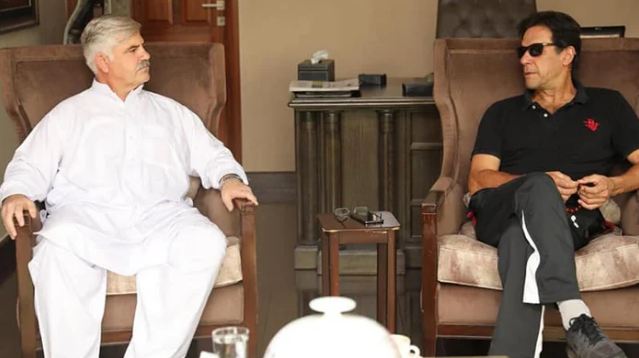 ISLAMABAD, JAN 13: In line with Pakistan Tehreek-e-Insaf (PTI) Chairman Imran Khan, Khyber Pakhtunkhwa (KP) Chief Minister Mahmood Khan has prepared a summary for the dissolution of the provincial assembly, revealed the party's Senior Vice-President Fawad Chaudhry.
The development came a day after Punjab Chief Minister Parvez Elahi signed the summary for the dissolution of the provincial assembly.
During an interaction with journalists on Friday, Fawad said that "money laundering" was the key reason behind the country's economic crisis.
"How can there be economic prosperity in the country, when the finance minister is involved in money laundering," he added. Referring to a question, the PTI leader asked the Punjab governor not to wait for "48 hours" and urged him to dissolve the assembly immediately so that the process for the formation of an interim set up be initiated.
He hoped that a person who can hold impartial elections in the province would be named as a caretaker chief minister.
'Court rejects plea filed by new broiler MQM'
The plea filed by the new "broiler MQM" was rejected by the court, the PTI leader said, adding that the LG polls in Karachi and Hyderabad would be held as per the schedule — January 15 (Sunday).
All component parties of the Pakistan Democratic Movement (PDM) were trying to avoid the elections, he said, adding that they were afraid of facing the people.
Speaking on the occasion, Fawad also urged the Supreme Court to ensure that the elections are held as per the schedule.
Extending a dialogue offer to the federal government yet again, he asked the Centre to jointly devise a framework for the general elections in the country.
'PM could be asked to take trust vote'
The PTI leader also said that President Arif Alvi can ask Prime Minister Shehbaz Sharif to take a trust vote as it is his "constitutional right".
PML-N Supremo Nawaz Sharif should return home and face the cases lodged against him, he said.
Let the investigations into the assassination attempt on the life of PTI chief Imran Khan be completed independently, Fawad said and warned against any obstacle in it.