Afghan Taliban attack on Kandahar 'leaves 46 dead'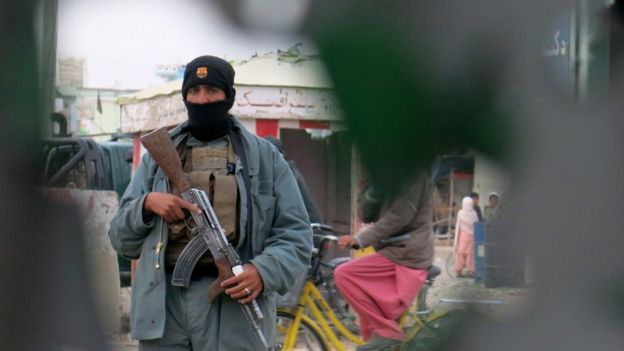 KANDAHAR: At least 46 security personnel, Taliban fighters and civilians have been killed in clashes in the southern Afghan city of Kandahar, officials say.
Several people were also taken hostage in the Taliban assault on Kandahar airport, which began on Tuesday.
The airport compound houses the joint Nato and Afghan military headquarters.
Officials said the attackers had managed to breach the first gate of the complex. Gunfire can still be heard, and all flights have been cancelled.
The Taliban said it carried out the attack at the heavily fortified site.
The Afghan defence ministry said 37 civilians and members of the security forces had been killed, along with nine Taliban. A further 35 people were injured, it said.
A doctor at a military hospital, speaking on condition of anonymity, told media that 41 bodies had been received, including four soldiers. The hostages are believed to include women and small children.
Correspondents say the attack is a huge security failure because the attackers were able to smuggle weapons into an area supposed to have been made secure by the Afghan National Security Forces (ANSF).
The Taliban said "martyrdom seekers" entered the airbase undetected to begin a "thunderous attacks on foreign and hireling personnel".
Kandahar army commander Sher Shah told reporters that radio intercepts had found that some militants were speaking in Urdu – a language more common in neighbouring Pakistan. Afghan officials frequently blame Pakistan for unrest.
A statement by the Taliban claimed that they had killed up to 80 soldiers. This figure could not be verified.
Kandahar airport director Ahmadullah Faizi told media that some passengers waiting to board a commercial flight to India had been trapped inside the airport's civilian terminal, at some distance from the fighting, during the attack.
The incident comes as Afghan President Ashraf Ghani visits Pakistan for a regional conference attended by Pakistan, India and the US, where they are expected to discuss peace talks with the Taliban.
Militant violence has increased across Afghanistan since the departure of most Nato and US forces last year.
In recent months the Taliban has seen a series of battlefield victories, including briefly capturing the northern city of Kunduz.