Affiliation with RECP to promote stronger Pak- ASEAN trade ties: Indonesian envoy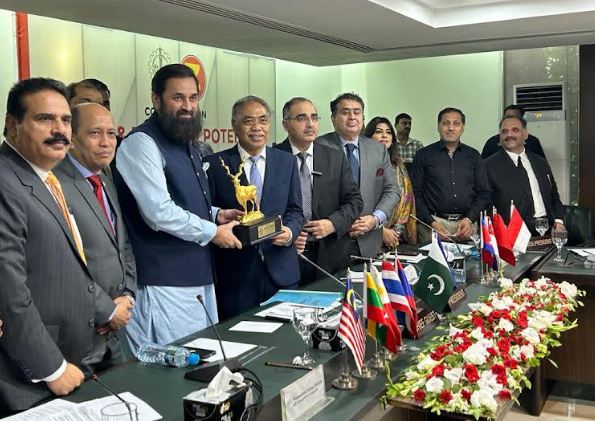 Lahore, Sept 5 /DNA/ – The Regional Comprehensive Economic Partnership (RCEP) trade agreement with additional five regional ASEAN partner countries would serve as an effective forum for stronger Pak- ASEAN trade relations if Pakistan would join RCEP that comprises 30 percent of the global GDP and 2.3bn World population This was proposed by the Ambassador of Indonesia Mr. Adam M. Tugio while addressing a Conference on " Trade and Tourism Potential in ASEAN" organized by Lahore Chamber of Commerce and Industry. The Chief Guest of the event was Governor Punjab Mr. Baligh ur Rehman and also attended by High Commissioner of Malaysia Mr. Mohammad Azhar Mazlan, who is currently the Chairman of ASEAN Committee Islamabad (ACI).
Elaborating the significance of R EP, Ambassador Tugio suggested LCCI to conduct a research study on the prospects of joining the RCEP for Pakistan and its likely positive impact on mutual trade activities. Despite huge population and available resources, the 11bn dollar Pak- ASEAN trade is far below than the real economic potential of two sides, he added.
Talking about Halal industry as one of the important area of trade cooperation, the Ambassador especially mentioned the growing size of Halal cosmetic industry in European countries and US. The presence of Muslims population globally in different continents offers good market opportunities for Muslim countries in the sector of Halal cosmetics, he said. The envoy pointed out that out of around 1.8bn Muslim population, 1.3 bn lives in D- countries, which has its own structured mechanism of collaboration together with D- 8 Preferential Trade Agreement to promote intra- trade among D- 8 members. This structure is very beneficial to promote Halal trade activities and its related industries including tourism.
Ambassador Tugio also highlighted the cultural charm, demography and bio diversity of ASEAN region that makes it popular tourism destination with tremendous investment and innovation opportunities in hospitality and food industry. The envoy said that 40 percent of Asean countries population is Muslim and 24 percent is Buddhist and ancient Gandhara civilization and Mughal Islamic architecture in Pakistan attract them a lot. The talented Pakistani IT students may create 3D versions of Taxila Buddhist sites and ancient Moenjodaro to promote foreign tourism, he added. Similarly, Pakistani tourists would also feel at home while visiting Indonesia as there are lot of similarities in culture and cuisines of both sides, he remarked. Highlighting the importance of strong people to contacts, Ambassador Adam informed that Pakistani students are the biggest recipients of Indonesian study scholarships this year and collaboration among universities of two countries is increasing positively. The Ambassador also warmly invited the members of LCCI and all business community to participate in the upcoming annual Trade Expo to be held in Indonesia in October 2023 and assured full facilitation from the Embassy.
Earlier, the Ambassador of Indonesia was warmly received by President LCCI along with Executive members. During the discussion, the Ambassador appreciated the resilience of business community to move ahead despite challenges and reciprocated the desire to work together to promote trade connectivity. The envoy emphasized the importance of long-term consistent economic policies in attracting the potential investors to invest in Pakistan. The President LCCI referred to the recent meeting of businessmen with the Chief of Army Staff with optimism and expressed hope that economy would become stable very soon with the formation of Special Investment Facilitation Council and other initiatives.