Actions needed to make northern regions a center of tourism: President ICCI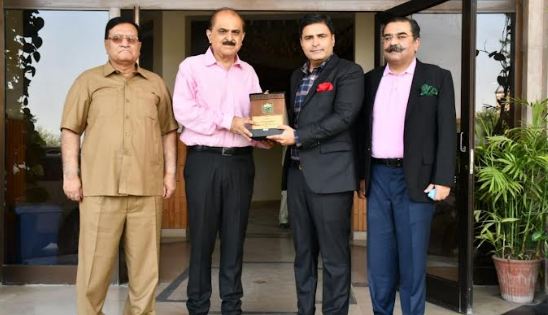 Islamabad, JUN 28 /DNA/ – Islamabad Chamber of Commerce and Industry President Ahsan Zafar Bakhtawari met Chief Secretary Gilgit-Baltistan Mohiuddin Ahmed Wani.In the meeting held at Gilgit-Baltistan House, Islamabad, he briefed about the first ICCI International Tourism Summit to be held in Skardu from July 7 to 9 next month.On this occasion, arrangements and measures regarding the tourism conference were also discussed in detail.President Islamabad Chamber while speaking said that the tourism sector is the easiest source of foreign investment for Pakistan. There are probably no other tourist destinations in the world like our northern regions.However, our problem is that unfortunately tourism has never been given priority in our country and due to lack of concrete measures in this regard, tourists are turning to other countries.
Along with the completion of the CPEC project and the construction of Skardu International Airport, more steps need to be taken to promote tourism.International flights should be launched in Skardu. Flights from all over the world should come to Skardu.Apart from this, special attention should be paid to the construction of infrastructure for the promotion of tourism in Skardu.For the promotion of tourism, new restaurants, hotels and guesthouses should be built to attract tourists.Islamabad Chamber is taking special interest in promoting tourism in northern regions.
On this occasion, Chief Secretary GB Muhyiddin Wani informed the President of Islamabad Chamber about the measures taken in Gilgit including the promotion of tourism in other sectors.He said that in Gilgit-Baltistan, education, health and information technology are among my priorities.Lack of funds is also a major problem. New school buildings are being constructed. Several buildings have been upgraded.GB Government has established 5 Software Technology Parks in Gilgit, Chalas Hunza and Skardu.
A skills program for GB's youth has been launched in collaboration with Nest University. Work is underway to reform the health sector.Modern medical equipment is being provided to the hospitals. 50-bed Cardiac Hospital and 700-bed Saifur Rehman Hospital are being established in Gilgit.The number of doctors is also being increased in the province. They are working on roads and other infrastructure in collaboration with federal agencies. He said that I hope the tourism summit of Islamabad Chamber will be a milestone for the promotion of tourism.